The Foxer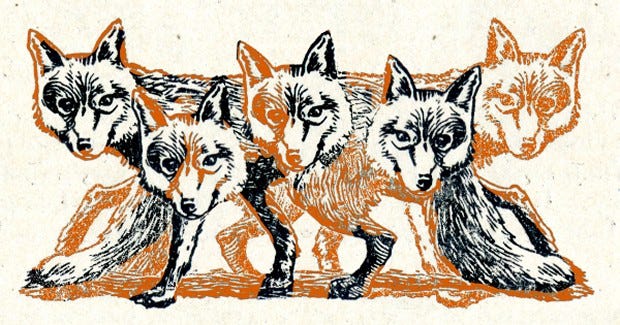 The controversy over what to call the albino hedgehog that's taken to visiting the Defoxing Annexe every evening, has entered its third day. Uncle George wants to call it 'Prickles'. Irma prefers 'Whitethorn'. Maginot Maxine likes 'Hoarboar'. Roman's keen on 'Белая смерть'. I continue to lobby hard for 'Just make a decision you incorrigible loafers and get back to work'.
Last week's foxer theme: darts (defoxed by AFKAMC)
a Trina Gulliver (Shiloh)
b Eric Bristow (Matchstick)
c Raymond 'Barney' van Barneveld (Teek)
d Barrel (dart component) (Panzerschwein)
e Flight (dart component) (Stugle)
f Phil Taylor (unsolved)
g Twenty (Rorschach617)
h One hundred and eighty (phuzz)
i Spider (dartboard component) (phuzz)
j Arrow ('arrows' = darts) (unsolved)
k Bull ('bull' = bullseye) (AFKAMC)
* * *
Roman's word ladders don't work like standard word ladders. You clamber from bottom to top placing appropriate five-letter words on each rung. Each word inherits three identically positioned letters from the word below it. Clues should make the climb easier, but be aware that my unspeakably fiendish foxer setter has shuffled the ten clues on the upper half of the ladder (clues 11 to 20). For example 'A Herbert Smith design' probably doesn't belong next to rung 20.
20. - - - - - A Herbert Smith design
19. - - - - - Punt propeller
18. - - - - - A bad month for the RFC
17. - - - - - Aircraft included in FSX and X-Plane 10
16. - - - - - 28 times deadlier than mustard gas
15. - - - - - Samphire Hoe is made of this
14. - - - - - Sparked a war in the 1860s
13. - - - - - German gun with 80-mile range
12. - - - - - The natural habitat of this bird is the bomb bay of a B-52
11. - - - - - Garment worn by French Army axemen
10. - - - - - Fifties movie that received ten Oscar nominations
09. - - - - - Word that can go before or after 'player'
08. - - - - - Crossed at great cost by the Austrians in 1918
07. - - - - - Obsequious SF flight computer
06. - - - - - Foxhole radio component
05. - - - - - AI personality in SMG
04. - - - - - Scandinavian city
03. - - - - - Followed by the Streak and the Kite
02. - - - - - Tandem rotor helo
01. p u r s e