The Man In The Moon: Driftmoon Trailer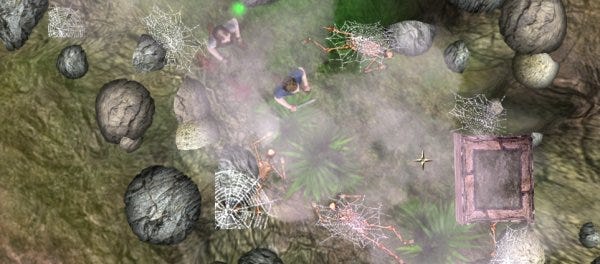 Ooh, the Indiegames blog has served up another choice cut of news. Instant Kingdom, the Finnish indie developer behind awesome freeware survival sim Notrium (do check that one out if surviving through a long, cold, alien night sounds like something you'd enjoy) is currently hard at work on Driftmoon, an RPG that I think might best be described as personality-heavy. You can watch the latest trailer after the jump, and play the latest alpha build by simply pre-ordering the game direct from Instant Kingdom for €11.99. He just put in the talent tree in the last update, which I think could be compared to an RPG losing its baby teeth.

The summary of Driftmoon on the official site is adorable, incidentally.
This is Driftmoon. It is a roleplaying game that tells the story of the Pendant of Life, and how it was reforged. It is also a story about how Robert lost everything but his bones, but that didn't stop him. And it is a story about the little firefly who wanted to be a big star, but was stuck in a crypt.
If the finished game is half as charming, we're on to a winner. Now if you'll excuse me, I'm off to go and play Notrium again.