The Most Marvelous News: Samurai Gunn's Surprise Release
SAMURAI. GUNN.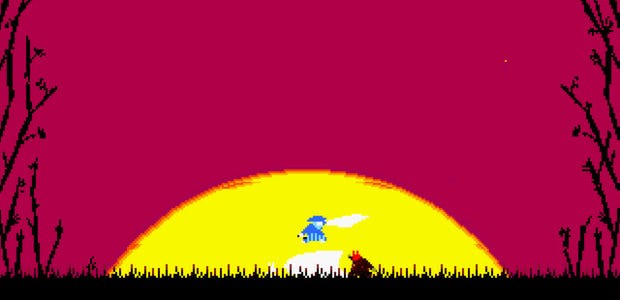 SAMURAI GUNN SAMURAI GUNN SAMURAI GUNN SAMURAI GUNN SAMURAI GUNN SAMURAI GUNN SAMURAI GUNN SAMURAI GUNN SAMURAI GUNN SAMURAI GUNN SAMURAI GUNN SAMURAI GUNN.
OK, enough with the formalities. Let's get down to business. Samurai Gunn is great. I've played it in various stages of completion, and its local-multiplayer-centric blend of lightning-quick, one-hit-and-you're-done slashing and impeccably timed shooting is sublime. It is essentially a game in which you do two things (three if you count moving/jumping), and they all feel perfect. It is out now. Go do something about that, or actually maybe don't because it's kinda light on content at the moment. Your call.
This is the sort of game that will make you and a few friends hoot and holler through clenched teeth and stress-heavy limbs. It's tense, gasp-inducing fun punctuated by screen and sound effects that slice through stagnant air like hungry blades. Don't have friends? Buy some. Did those friends leave after realizing that - while you're a great person and they were actually prepared to stick around for completely non-monetary reasons - you were better than them at Samurai Gunn? Buy some more.
Samurai Gunn is out on Steam and the Humble Store. It's admittedly light on modes and options at the moment, but its core is incredibly strong. If you get a lot of use out of rapid-fire multiplayer fighters (for instance, by throwing tons of disgustingly hot fighting game and sex parties), then it's more than worth the current $11.99 entry fee. However, if you're more into single-player or are reliant on online multiplayer (which Samurai Gunn does not have) for these sorts of things, you might want to hold off for a bit - either for more modes or a price drop.
Sometimes lean, mean perfection is preferable to unwieldy bloat, but obviously, that perspective doesn't apply to everyone. Are you gonna nab Samurai Gunn this early in the game?