Have You Played... The Next Penelope?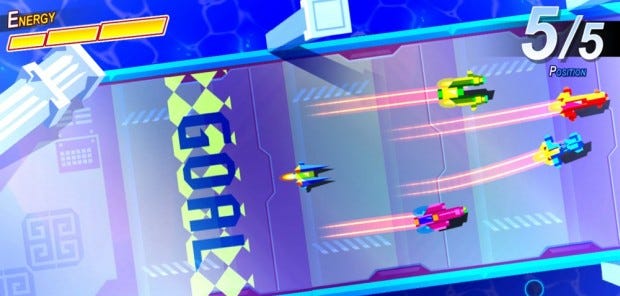 Have You Played? is an endless stream of game recommendations. One a day, every day of the year, perhaps for all time.
My childhood was mostly spent playing games on the Amiga 500, which meant a steady diet of topdown racers like Micro Machines, Skidmarks, Overdrive and probably a dozen others. The Next Penelope [official site] is of that same lineage, but oozing with extra style: not least because it's a sci-fi retelling of Odyssey from the perspective of Ulysses' wife.
Yeah, you heard that right - and there's obviously a fair amount of inspiration in here from Ulysses 31, a cartoon I missed as a kid but watched as a semi-adult. The game imagines that while Ulysses is off being lost in space, Penelope took part in high-speed sci-fi races in order to defeat figures from Greek mythology - all of whom own thematically appropriate vehicles and race tracks.
It's a fun setup, but it wouldn't be worth anything if the racing itself weren't also fun. It is. Fast and nippy and simple, but with enough happening - your boost and weapons use the same energy source as your vehicle's health, for example - that it's exciting and compelling to play. It won't take you more than a couple of hours to complete if you're not intent on improving your times, but it's a couple of hours of vibrant fun.