The RAGE Rave: QuakeCon Is Go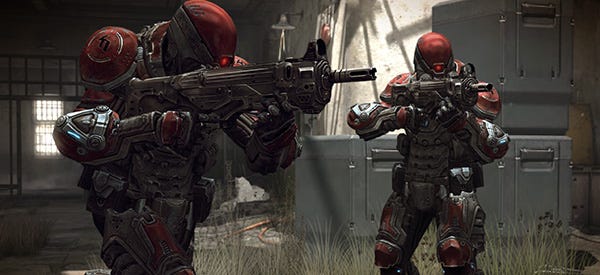 QuakeCon. QUAKECON. QUAAAAAAAAAAAAAAAAAAAAAAAAAAAAAAAKE-A-CONNNNNNNNNNNNNNNNNNNNNNNNNNNNN. Just saying that name makes me laugh: truly, it is the most testosteroney of all gaming conventions. If QuakeCon and BlizzCon were ever to merge, terrible, terrible things would happen. Fortunately, id's being owned by Bethesda these days means there's no risk of that happening. QuakeCon '11 isn't far off - the doors open August 4. It's going to be a big one, because that date means it's a mere month before RAGE finally ships so doubtless there's going to be a ton of exciting hands-on access for atendees. And could it maybe, maybe, pretty please maybe entail a first glimpse at Doom 4?
One way to find out (actually there's two, but 'watching the internet around that time' scarcely seems like making an effort): pre-register now.

The Con itself is free, so long as you can wing your way down to Texas, but if you want perks id are kindly allowing you to pay them some money. Details here, but in short three tiers of $20, 35 and $50 gets you stuff ranging from guaranteed seats for the bring your own computer tourneys to Bethesda-themed zip-pulls to fancy RAGE mousemats and express-lane access so you can pretend you're important. Not that important, however: the $50 pass has already sold out.
Register here. Anyone going? I'm not, because I'm a vegetarian. A vegetarian in Texas wouldn't last a minute.