The RPS Advent Calendar, Dec 19th
Nearing the top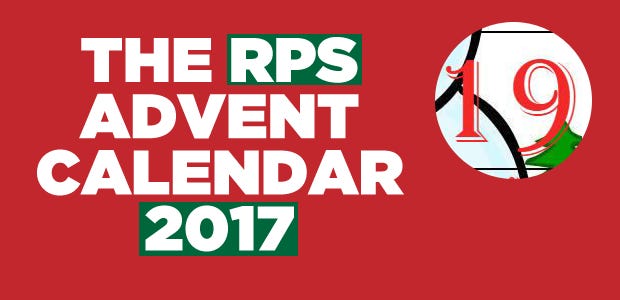 Behind door nineteen, there is a computer chip. To learn more, you must plug it into one of your ports.
It's NieR: Automata!
Katharine: What a ride Nier: Automata's had this past year. The sequel to a game about three people played on PS3 and Xbox 360 back in 2010, it just goes to show what a bit of PlatinumGames magic can do to an ailing cult classic. Okay, so the PC version of Nier: Automata was a bit borked at launch, but to dismiss it now would be a disservice to both you and action games as a whole.
For me, Bayonetta still edges ahead in terms of overall combat, but the way Nier: Automata effortlessly slips between about eight different genres – all in the course of a single level, no less – imbues it with its own kind of Umbran magic. One minute you're playing a bullet-hell shoot-em-up, the next you're in a 3D brawler, then a 2D platformer, and then to cap it all off you don a mech suit to an oil-platform-sized boss as an on-rails shooter. This is what video games are about, and that's just the first mission! Throw in an achingly beautiful world, soundtrack and story, and Nier: Automata is in no danger of being forgotten like its forebear.
Adam: I didn't have a horse in the NieR race. I've never played the original, I'm wary of sexybots and sad anime sci-fi, and I am not very good at many of the genres the game seemed to cover.
It turned out to be one of my favourite games of the year. For a good while it was my favourite and I still feel sad whenever I find out someone I know didn't get along with it. They have their reasons, and they're often good reasons. Automata does silly things, it winks at the fourth wall and then punches you in the gut, it veers between existential horror and weird whimsy, and I'm still not entirely sure why it's an open world game when I only really cared about following the story.
The thing is, it's so exquisitely idiosyncratic and carefully constructed that I wouldn't dare to second guess any element of it. Chances are, if you take away one of its uncomfortable qualities or moments, some of the best stuff in it might not work quite as well. It's a game of many endings; in fact, it's a game about endings in many ways. I wish it went on forever.
Head back to the calendar to open the door to another of 2017's best games.