The Sims 4 City Living Expansion Moves In Today
Going to town (well, city)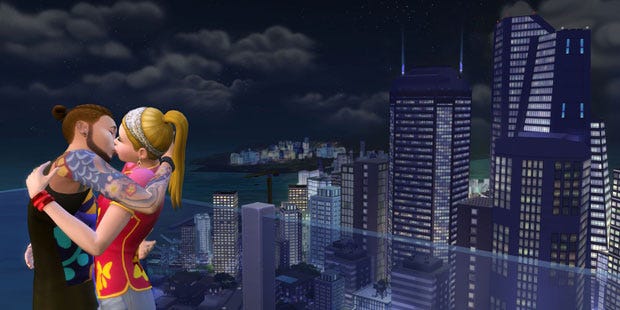 The Sims 4 City Living expansion [official site] is due out today (and already out in North America) so this is probably a good time to look at what it actually involves. I've lived in several cities over the course of my life so, if nothing else, I feel really well placed to look at the features list and see if they fit with my own recollections.
The point of City Living is that you get to take your suburban dwellers into the Big Smoke otherwise known as San Myshuno where they can "discover exciting neighborhoods, move into a new apartment, check out fun festivals and more."
So what are the features they're touting with this expansion?
Explore the bustling city of San Myshuno. This densely populated city has enough unique neighborhoods to give your Sims plenty to explore. Get creative in the Arts Quarter or sing your heart out at the Karaoke Bar in the Fashion District. Head over to the Spice Market to shoot some hoops, or invite a few friends over to play video games after a long day at the office in Uptown.
Shooting hoops over at the Spice Market really sounds like a euphemism. Also it sounds like the grungier aspects of city living have been quietly expunged. I mean, I used to do karaoke in London a lot but it was in Soho and Soho is currently several different things rolled into one - it's the gay district and the sex shop district and the PR and special effects and other related media district and maybe also an extension of the fashion district. I guess the Arts Quarter might be Shoreditch/Hoxton/Whitechapel if you mean that hip reputation with galleries and bars? I honestly wouldn't go there to do anything creative, though. I'd go to a local drawing class - Camberwell had a good one, as did Tottenham.
Discover lively cultural festivals. Festivals are great opportunities to enrich your Sims. Let them watch street performers, enter competitions and meet a wide variety of folks from every walk of life. Check out the Curry Challenge at the Spice Festival or light fireworks with a hot date at the Romance Festival.
This is very familiar - particularly if you hang out at the South Bank much or around Trafalgar Square. Trafalgar Square is often used for celebrations nowadays so I've accidentally been to several festivals or celebrations there just by wandering through on my way to work or to meet a friend. I was going through the other weekend on my way back from a wedding and there was a Diwali festival where you could make your own lamp.
Live in apartments and get closer with your neighbors. Lots of new neighbors mean all kinds of opportunities for relationships, both good and bad. Your Sims might make a new best friend or fall in love, then debate giving them a key to their place. And what about those noisy neighbors and their late night dance parties? You'll need to decide how to handle them - if you can't beat them, maybe you should join them.
THIS IS NOT HOW LONDON WORKS. THERE WILL BE NO TALKING AND NO MAKING FRIENDS WITH ANYONE IN AN EASY AND HAPPY WAY.
Work your way up from starter apartment to penthouse. Choosing the right apartment for your Sims can be a challenge. You'll need to balance the charm of your first starter unit with possible setbacks, like cockroaches, leaky pipes or electrical problems. Help your Sims work their way up to living in a Skyscraper Penthouse, with panoramic views and even a Talking Toilet!
Embark on new, metropolitan careers. There are all kinds of new opportunities in the city so make sure your Sims take advantage of them. As a Politician, your Sims can make dramatic speeches while fighting for a good cause. Maybe they'd prefer a more refined career as a Food or Art Critic. Or they could inspire the masses working in Social Media.
I feel like I'm far too jaded at this point, but maybe you could spend a few years as an unpaid intern earning experience and getting your name out there while working a second job at the pub or in a store for earning actual money so you can buy actual food and an actual travelcard.
THAT SAID, I have now watched the trailer video and I do find myself reminded of a lot of my far happier memories of time in cities, plus there seems to be a corrupt business/politician clown so there's grungy seediness in some places. In terms of the marketing material that's on offer it definitely looks like the most enticing addition I've seen for the base game so far.
Reading about City Living, I'm also reminded of my brilliant idea about The Sims being a strong candidate for a subscription model if you're like me and want to dip in every now and again but don't play enough to make the expansions and doodads worth it. Like, I'm fond of a Sims house every now and again and I'll build a little life but sooner or later I drop off and that makes expansions like this which cost £29.99 plus the base game a higher price point than I'm comfy with. The Sims franchise is one of those games where people will just make it their main/only game though so I understand why that option doesn't make sense for EA, or even for some users as they'll pay AND play enough that it's value for money.
Something I will say, though is that I didn't really feel the pull of The Sims 4 in the same way that I did with The Sims 2. I was hoping for the game to throw in more oddities or for a sense of the Sims living their lives even if I stepped back a bit, but it seemed to be that the game never wanted to make any big decisions, leaving all of those to me, so there was no capacity for surprising me as a player. The result was that my time with The Sims 4 felt kind of flat and entirely reliant on me for the stories, whereas previously it had felt more collaborative somehow. Is that your experience? Are any of you still playing?
City Living is up on Origin for Windows and Mac at £29.99/$39.99. It's already out in North America but, because reasons, won't launch in the UK until 11pm today.
Oh! One last thing: Adam pointed out this morning that EA are offering a 48 hour trial of the full game on Origin so that's worth knowing if you weren't sure whether you wanted the new version.