The Song Of My People: Typing Karaoke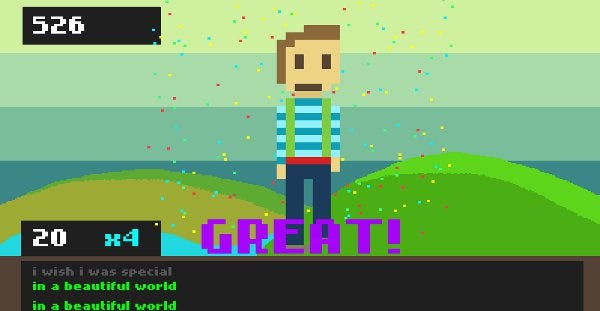 These are sad times we live in. The typing game is a dying form, as evidenced by the fact that Typing of the Dead never got a million sequels or infected other zombie-centric franchises with its admirable linguistic prowess. But there is hope for the clumsy fingered among you. Musical hope. Typing Karaoke is pretty much exactly what it sounds like: well-known hits from the decades of yore play, and you type furiously to just barely keep up. It ends up being an oddly arrhythmic experience, but it's still a fun (and technically educational!) timewaster.
I found the disconnect between typing individual letters of words and knowing the rhythm and flow of songs to be pretty jarring, but there's a bouncy charm to the whole thing that evokes memories of the wild backdrops from DDR and Guitar Hero. Songs include everything from Stray Cats' "Rock This Town" (DON'T DO IT. IT WILL KILL YOU) to Radiohead's "Creep" (DON'T DO IT. YOU WILL HATE YOURSELF).
It's a pretty simple setup, but mastering the more lyrically intense songs is a challenge achievable only by the nimblest of digits. So give it a go. And remember: even if you're not the fastest type-singer, you can still do it with feeling.