The Steam Autumn Sale: what are the Steam Awards?
Games within games...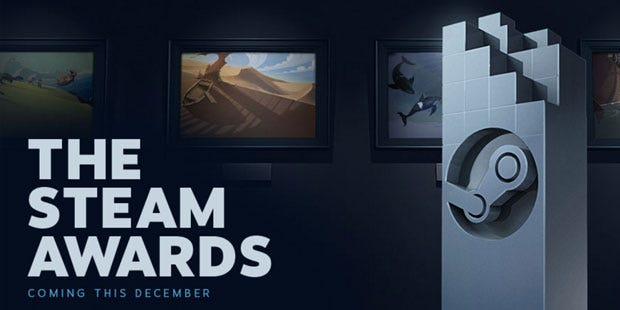 As I went to purchase a bundle of my beloved Hidden Object Adventures I was asked if I wanted to nominate them for THE STEAM AWARDS. "How would I know?" I thought. "I mean, I haven't played them yet." Then, another question. WHAT ON EARTH ARE THE STEAM AWARDS? Why am I expected to learn new things? ALSO the Steam Autumn Sale has started?
So, having made the Autumn Sale Brendan's problem, I'm going to look at what on earth the Steam Awards are:
"For the first time in human history, our Steam Community will decide the nominees for the prestigious Steam Awards. This November you will get to choose nominees for 8 different categories as well as have the opportunity to create your very own award category."
The categories which have already been labeled by Valve and won't thus be named the Boaty McBoatface Legacy Award or whatever, are as follows. I'm just going to quote Valve on what each one means because I actually really like some of the categories they went with:
The Test Of Time Award
This award is for the game that is just as good today as the day you first played it. Newer games may come out, but it doesn't matter… you'll always come back to play this one.
The Just 5 More Minutes Award
You have an early day tomorrow. You need to get some sleep, so you're just going finish one more thing before you decide to tuck in for the night. Just one more. Wait, one more. What's that you say? It's 2:30 AM? This award is for the game that keeps you playing late.
The Whoooaaaaaaa, Dude! Award
Some games melt your face. Maybe it was a crazy plot twist. Maybe you just got your wisdom teeth removed. Either way, this game BLOWS YOUR MIND.
The Villain Most In Need Of A Hug Award
Some people just need a hug.
The Game Within A Game Award
Kinder Eggs. Peanut Butter Cups. Jelly Donuts. All great things stuffed with other great things. Like a mighty turducken, this award celebrates the best mini game hidden within another game.
The I Thought This Game Was Cool Before It Won An Award Award
This title didn't have a huge marketing machine behind it, but you found it and loved it. Then you told your friends about it. And they loved it. And now that little game that could is about to win an award… but always remember: you totally found it first.
The Best Use Of A Farm Animal Award

Animals are rad and almost any game is better for including them. However this game used a farm animal in the best way possible.
The We Didn't Think Of Everything Award
(*name pending Selection Committee Decision) There are as many great ideas for awards as there are great games to play. And so we turn to the Steam Awards Selection Committee to come up with their own category and nominee. Senior members of the Selection Committee will review the write-in entries and create an entirely new category based on the feedback provided.
There is nothing in the FAQ about what kind of farm the farm animal has to live on or how "farm animal" is being defined. I checked.
So here's the thing. I'm interested in what you think about this set of awards cropping up. I'm generally all for positive things and pointing out when a cool game has happened. I also like slightly more off-beat categories because it might mean games other than those with the enormous fanbases getting some of the nods. I guess the fact that it's only for Steam games might also alter those results a bit. I've been to two sets of games awards recently and Overwatch was picking up a lot of silverware but it wouldn't be cropping up here. Similarly the tiny games I love on places like Itch.io tend not to also be on Steam so that's something to note as being absent - it's very much the Steam Awards rather than a full 2016 gaming award shindig.
Oh, and I also want to know what you're thinking of for the game within a game award. Obviously I will be nominating the mighty planetary mining minigame from whichever Mass Effect game that happened in.
Nominations are open 23-29 November and there's a proper webpage about it all here. ALSO the Steam Autumn Sale has started.