Cretaceous Bodacious: The Stomping Land On Early Access
Open-world survival with dinosaurs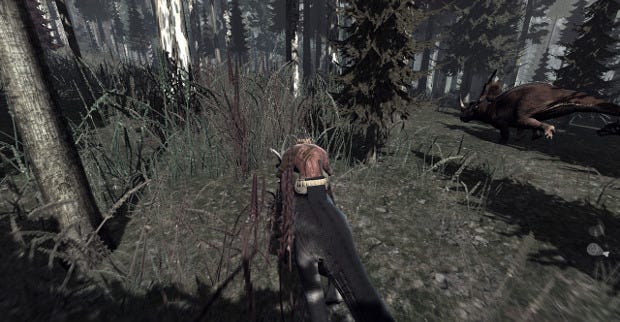 I've never really taken to survival games because, in all honesty, I'd probably choose not to survive in their doomed worlds. Were I to play DayZ, I imagine I'd scavenge a book and a bottle of alcohol disinfectant then enjoy both on a beach before taking a nice long swim in the cold sea. However, a dinosaur world where tribes fight each other atop dinosaurs for the opportunity to eat bigger dinosaurs, that's a world with purpose.
Open-world dino survival The Stomping Land is now on Steam Early Access, offering that fantasy for £18.99.
See, in a land roamed by dinosaurs, all you really want is a good meal, the kind that only a colossal predator can provide. These walking dinners are too mighty for you to topple, but they will roam and fight each other. If your tribe can survive the wilds and other tribes, why, maybe you'll be around to munch on their corpses.
It's the usual crafting, scavenging, hunting, and all that, but warring and big dino-dinners should add more direction than many open-world survive 'em ups have. That's good. I do better with a sense of purpose, otherwise disinfectant book beach etc. And in the game. Also the feature list includes "random dinosaur stampedes," which I'd certainly want to live to see.
"If you wish to jump into a more finalized gameplay experience, it is recommended to not purchase the game until release, as all features require balancing, bugfixing, and updates for smoother implementation," developers SuperCrit do warn. They plan to add another nine dinosaurs to the current lineup of six, whack in more craftable weapons and items, and improve the dinosaur AI over the early access period. Here's how it looks right now though: