The strange ideal of the non-lethal playthrough
Pulling your punches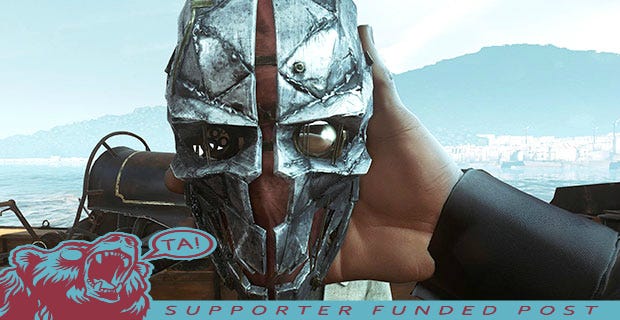 You know Batman, right? Caped crusader, knight of the night, goes around beating up criminals, sends them to jail or an asylum, will not kill anyone under any circumstances? There's fairly common discussion thread against people who care about comic book characters enough to consider the implications of their various traits and behaviours, and it says that Batman is an idiot. He's an idiot because if he repeatedly hands mass murderers and terrorists into the custody of institutions that have proven themselves unable to keep them off the streets time and time again, and in refusing to take a life he's indirectly responsible for the deaths of their many victims.
It's a bit of a trolley problem and unless the fiction itself is interested in raising the question, I don't think it adds a great deal to my understanding or appreciation of the character. But Batman did come to mind as I was playing Dishonored 2 and wondering, as I often do, why there's a sense of superiority as regards the non-lethal playthrough.
"Did you manage to complete the game without killing anyone?"
Read the rest of this article with an RPS Premium subscription
To view this article you'll need to have a Premium subscription. Sign up today for access to more supporter-only articles, an ad-free reading experience, free gifts, and game discounts. Your support helps us create more great writing about PC games.
See more information