The Swindle Potential Follow-Up Shows Sci-Fi Style
So much pastel!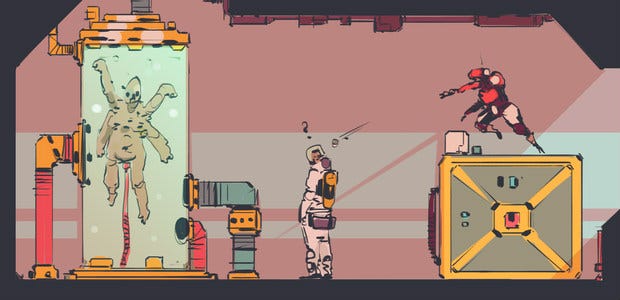 The Swindle's [official site] cyberpunk/steampunk aesthetic was unique, but the sci-fi concept art posted on Size Five Games' blog seems like it would adapt even more readily to its stealthy computer hacking gameplay. The developer is considering a follow-up game and has brought in an artist to chuck a few ideas together. The resulting artwork by Gareth Davies has a gritty 70's/80's sci-fi look highlighted by pastels and reminds me of Chris Foss' work for Jodorowsky's Dune.
Chief Size Fiver Dan Marshall explained:
"One of the things I've been thinking about making is a sort-of follow-up to The Swindle. Not a sequel, just the same concept done... differently. In order to differentiate it as not-a-sequel it needed a different art style, time period and vibe entirely, so I've been working with the exceptionally-talented Gareth Davies to put together some concept art for how a project might look."
Though they're still rough mood pieces, the art style is tremendous. If Size Five could pull off a live, animated game in the same vein, it would be beautiful. The development team would have a lot more leeway with set design as well, and in the artwork, we can already see what appears to be a space station or satellite, a genetics lab, and various cityscapes. Size Five hasn't committed to making a new game in this vein yet though, unfortunately.
"I'm not definitely making it, everything's up in the air at the moment, but they came out so brilliantly I couldn't just sit on them so thought I'd share," Marshall said.
If you think this style of game is something you'd love to play, let The Swindle devs know by dropping them a line on their blog. Go now. Now excuse me while I rewatch that excellent Dune documentary. Salvador Dali was wild.