The Technomancer Trailer - Better Or Worse Than The Idea Of A Calculon Game?
All my circuits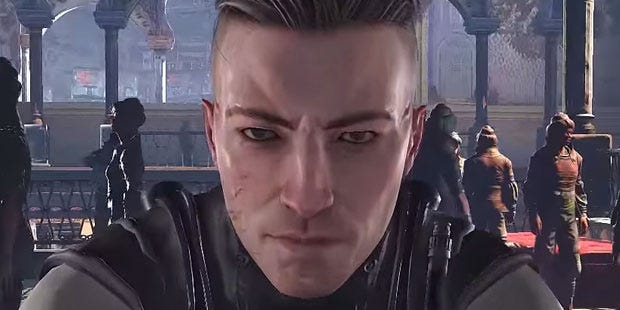 There's a new trailer out for The Technomancer [official site]. So far I had avoided Technomancer news and was kind of holding out for it to be a portmanteau of "technology" AND "ROMANCER". Maybe there would be a robot who was using its robot powers to find love. I think I was imagining Futurama's Calculon starring in a videogame of All My Circuits. I have now watched the trailer and am mourning the loss of Calculon: The Game because The Technomancer (as everyone else at RPS already knew) is about a dude who can control electricity. OBSERVE:
In case you are somewhere like a library and have no headphones I will describe the situation: There's a Mad Max-iness to the aesthetic in places and a sci-fi Western-ness to the soundtrack and then a bunch of punchy-electrocutey-animal-fighty dudes. I didn't actually get a decent feel for what the actual game involved aside from punching and electrocuting so at this point I turn to the press info which adds:
"Pursued by a corrupt police force, you must journey across these deadly environments and beyond, chasing a secret that could alter Mars and its inhabitants forever."
The Technomancer will be out on PC in summer 2016.
But before you go just imagine how great Calculon: The Game could have been.