The Turing Test Gets Release Date, Asks Big Questions
Too Human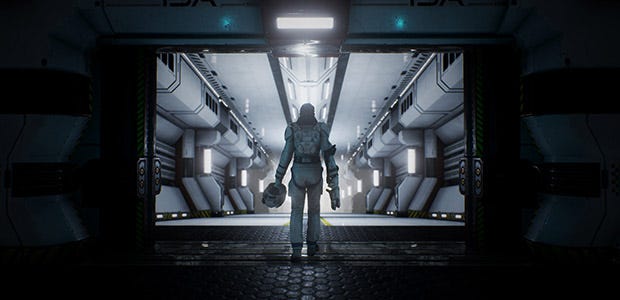 It's hard not to watch the latest trailer for The Turing Test [official site] and see all the stark parallels between Portal and The Talos Principle. A science fiction first-person game where a robot sidekick guides you through various chambers full of puzzles with themes of transhumanism? Still, despite those on-the-sleeve inspirations, I can't help but feel drawn in by The Turing Test's atmosphere and heavy philosophical rumblings. And late last week, a new release trailer revealed that we won't have to wait too much longer, as The Turing Test is due out on August 30.
Dropping you into the space suite of Ava Turing, an employee of the International Space Agency who arrives on Europa and begins to uncover the shady dealings of her employer and why the Europa station's residents have all disappeared. And how does one do that? Well, by completing a series of logic puzzles of course! It feels a tad silly considering the more serious tone of the trailer, but for what it's worth, fellow news-hound Joe Donnelly played a small demo back at Rezzed earlier this year and quite liked what he saw.
From what has been shown so far, much of the puzzles revolve around using your Energy Manipulation Turn (EMT) to transfer energy from one source to another while also picking up and positioning various objects in the environment. Joe said he "got a real sense that there's an interesting game at work here." That makes me hopeful, but I'm more interested to see if The Turing Test can actually make good on promises like "solve the human problem" or "transcend the line between man and machine."
I guess I'll find out when The Turing Test launches on August 30 on Steam. No price has been announced as of yet.