Through The Looking Glass: Paul Neurath Interviewed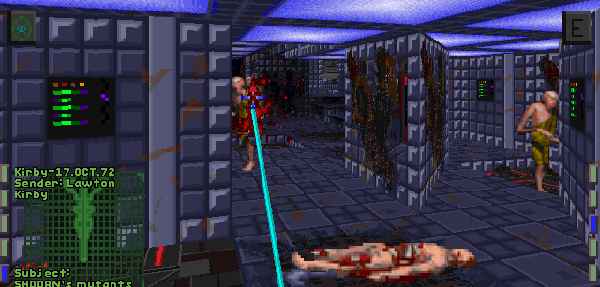 "When the history of my glory is written, your species shall only be a footnote to my magnificence," said a terrifying lady, yesterday, to me. Or SHODAN did or whatever. But her legacy lives on thanks to the kind of innovation Looking Glass studios was interested in. Paul Neurath, the co-founder and creative director of Looking Glass from 'the day it opened to the day it closed' has been interviewed on this super fascinating podcast looking back on his time with the studio. The company was responsible for some of our dearest memories, such as Ultima Underworld, System Shock, and Thief, before it closed its doors (sob!) in 2000.
Neurath starts the two hour chat by going over his history starting with Origin, then talks about his involvement with 'the most successful game [he] worked on': Madden. His relationship with EA also seems particularly interesting - Neurath talks about the business decisions made and how they set the tone for things. Ultima also set the tone, he says, for the later games Looking Glass worked on, and he states that he has spent years trying to get EA to make another Ultima (and hasn't been successful because from their perspective it isn't a big enough franchise). Neurath explains that he feels that Looking Glass were 'never well capitalised', and made a lot of business mistakes, which is a shame because the studio has always been looking to innovate and be original with their games. He also goes on to talk about the huge risks they were taking on creatively, and how he "always thought the games industry could benefit from more innovation" - that he wanted to "create for ourselves the opportunity to do something people haven't tried before... this publisher cycle of 'lets do a rehash'...doesn't move the industry forward". This warms my cold bionic heart, my puny insect friends.
The podcast is the tenth and last part of a series dedicated to Looking Glass by the Singapore-MIT GAMBIT Game Lab, which focuses on building collaborations between Singapore institutions of higher learning and several MIT departments for research and development. It's sort of comforting to know that the ivory towers care about this stuff just as much as us peons eh?
With System Shock 2 released on GoG recently, and and Thief 4 screenies leaked, this would make it a nice time to BASK in those memories of the good old days when you were so tense playing games your mum bringing you a cup of tea scared you half bald. Or in my case, so startled me all my Rage Against The Machine CDs fell off the shelf and smashed and then I cried for the rest of the day like a TEENAGE REBEL.
You can see the many questions Adam asked about the new System Shock 2 re-release here and read Alec's MASSIVELY overexcited yelps over leaked Thief 4 screenshots here. Meanwhile, I am busy trying to digitize my hair so that I can look more SHODANesque. How dare you interrupt my ascendance? You are nothing. A wretched bag of flesh... Pass that Motherboard Green dye please?