Time-travelling horror Oxenfree 2: Lost Signals is coming in July
This frequency's getting clearer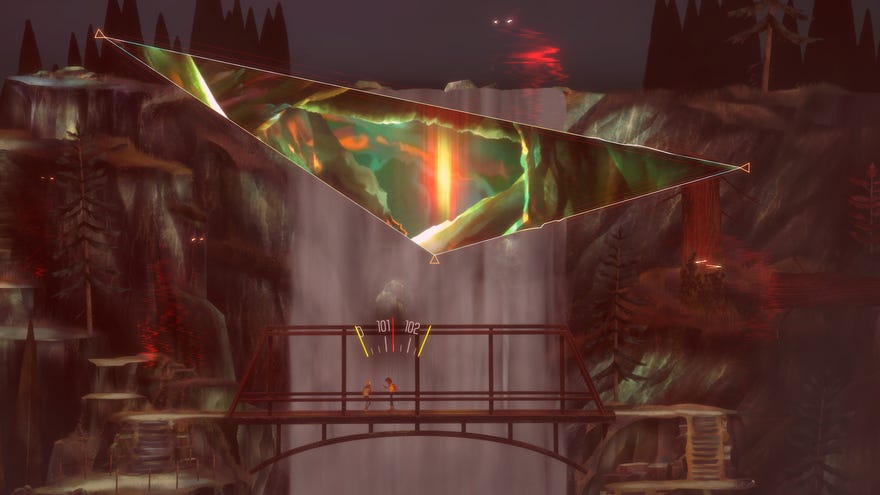 Spooky supernatural sequel Oxenfree 2: Lost Signals is launching on July 12th, developer Night School have announced. Just like the first Oxenfree, there'll be plenty of flexible walking and talking where you'll be able to interrupt conversations at any time, or just stay silent throughout, which would be creepily on-brand for a series about ghostly rifts and unsettling radio frequencies.
Set five years after the original, this time around there's an entirely new cast, setting, and threat to deal with. You'll play as the environmental researcher Riley as she returns to her hometown of Camena and investigates the choppy radio signals that freaked out many an Oxenhead. What follows is a reality-shifting, time-travelling mystery that somehow involves a villainous cult, previously teased through audio transmissions patched into the first game.
"We wanted to tap into the essence and world that made the original game so special, while immersing players in a brand new story with even higher stakes," said Night School's co-founder Sean Krankel. "We can't wait for players to embody Riley, shaping her through life-altering choices."
AliceB got a glimpse into the future - not through an interdimensional tear sadly - during her preview where she concluded that if you enjoyed Night School's free-flowing conversations in their other games, you'd probably enjoy Oxenfree 2 as well. Plus, the feeling that time is collapsing in on itself made the adventure even more worrying thanks to an older cast, and a player base that has grown up in the time between Oxenfrees.
There's definitely something to that line of thinking, as Oxenfree's scares weren't confined to overtly creepy sights and sounds. As Annie Mok wrote at the time, Oxenfree's "horror doesn't come from traditional jump scares or big toothy monsters. It comes from how the weirdness that transpires teases and pulls at these complex, bottled feelings." More of that, please.
Oxenfree 2 is jumping onto consoles, Netflix (because they acquired the developers), and PC via Steam on July 12th. Its newest trailer (above) debuted at last night's Nintendo Indie Showcase, where we also got fresh trailers for the gothic sequel Blasphemous 2 and skating platformer Bomb Rush Cyberfunk.