Titans Will Fall In Five Months' Time
March of the Mechs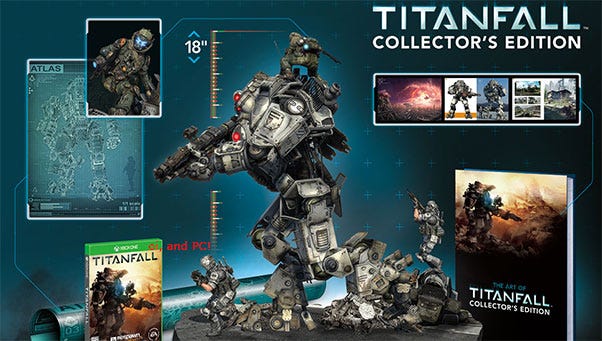 The more astute mathematicians among you will have calculated that this means Titanfall, aka What The Modern Warfare Creators Did Next, is due to arrive in March. March 11 for Americaland, March 13 for mainland Europe and March 14 for this e'er punished isle, to be exact. That's a Tuesday, Thursday and Friday respectively, you know.

Hopefully a PC release will indeed be simultaneous with the assortment of necks jenny ray shun under-telly boxes; that is EA's claim for now, but you know how sniffy big publishers can be about PC.
The multiplayer-centric mech-shooter also has a $250 special edition, whose contents you can see above. Apparently that statue has LED lighting in. LEDs are expensive, I bet they constitute almost the entire $200 price difference from the standard version.
Apparently Titanfall is looking pretty tasty. Sadly I haven't played or seen it myself as yet, because I am a mad shut-in who now only has conversations with his five-month-old baby and thus have been unable to attend any events it's been at. I did recently feed her in front of Pacific Rim though, so at least she probably knows what a mech is.