To The PratCave! Gotham City Imposters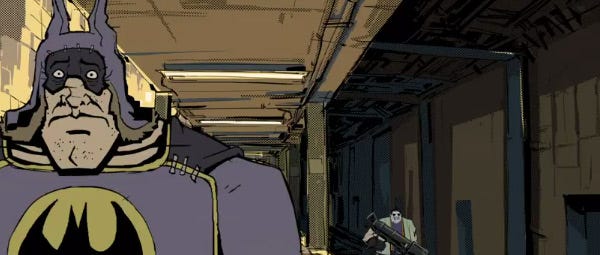 I'm not entirely sure what to make of Gotham City Imposters, the upcoming Team Fortress but with Batmens and Multi-Jokers shooter, but I am very glad to see Monolith embracing the peculiar once again, after too many years of cheerless FEAR games. And here's a neat way of promoting it too: a stylised, scrappy, wordless animated short showing off assorted ways for Team Bat to off Team Joker and vice-versa.

And here's another from a couple of months back that I'm not sure we posted. BECAUSE WE'RE LAZY AND THICK.
It's such a brilliantly ridiculous idea, yet at the same time gets around the problem of everyone who plays a Batman game only wanting to be Batman or the Joker. I hope it all comes together on the day. And that day will be next January, so not long now.
Plus, a series of very cheerful dev diaries discussing character customisation, gadgets, classes and whatnot. These guys do, I believe, enjoy their jobs.