Tokyo 42's futuristic sneak-o-action coming May 31st
Neo-Tokyo is about to E.X.P.L.O.D.E.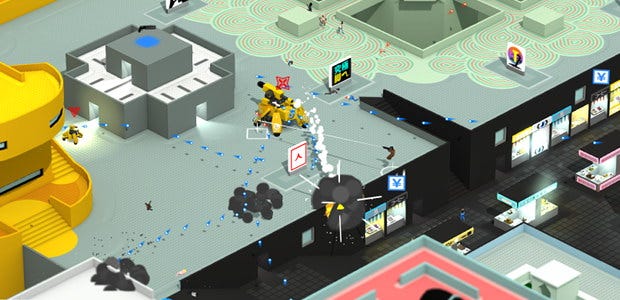 The stylish sneak-o-action of Tokyo 42 [official site] will arrive on May 31st, publishers Mode 7 announced today. Made by the duo SMAC Games, Tokyo 42 sees a futureperson framed for murder then try to clear their name through missions across beautiful futuristic city rooftops. It's a looker all right, and meant to offer a fair bit of variance in how you play -- Mode 7 call it "the lovechild of Syndicate and GTA 1" -- from stealth to committing many actual murders to escape your murder rap.
Mode 7 say that the following trailer condenses Tokyo 42 into 4.2 seconds, which is a total rookie mistake as if you watch this you won't need to play the game at all:
See? I'm feeling no desires for any of that any more. Now I've seen a futureman roaming and shooting through the rooftops of a beautiful futurecity, I have no need to play it. I certainly have no interest in rooftop waterfalls, golf courses, mazes, zen gardens, or shopping centres. Why would I want to ramp a futurebike between buildings when I've seen it right there? Checkmate, Mode 7.
Along with singleplayer, Tokyo 42 will have multiplayer modes.
We showed Tokyo 42 in our Cave of Wonders at Rezzed this year - did you have a go? How is it? Couldn't attend myself, y'see. Us remote folk are stuck with things like this trailer showing potential approaches to combat.
May 31st it is. Though of course you don't need or want to play Tokyo 42 any more.