Tokyo 42 infiltrates the RPS Cave of Wonders at Rezzed
Rooftop ruckus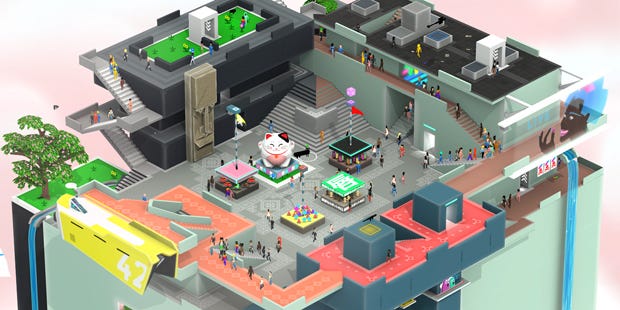 This week we'll be taking a closer look at what's going to be in the RPS Cave of Wonders at Rezzed! Today our futurescope has trained its beady eye on Tokyo 42!
Ignoring what happened to Tokyos 1 through 41, Tokyo 42 [official site] takes you to a city of the future (Tokyo, in case that isn't clear by now!) and asks that you become an assassin bent on uncovering a dark conspiracy.
Here's the video from the game's publisher (Mode 7) which lets you get a feel for the various playstyles you can use for missions from bullethell-ish to stealth (there are single- and multiplayer modes, by the way):
The whole thing plays out across this bright, clean city whose public areas perch atop the blocky urban architecture of high rise buildings. Setting aside the assassin/dark conspiracy stuff for a second, it would also make for a really pleasing city construction set!
EGX Rezzed 2017 runs from 30 March – 1 April at the Tobacco Docks in London (nearest stations are Shadwell and Wapping). You can pick up Rezzed tickets here and don't forget there's also the RPS mixer in association with The Signal From Tolva which should be really a lovely and friendly gathering :)