Total War: Rome 2 gets prettied up, expanded and sprouts some family trees today
What did Rome ever do for us?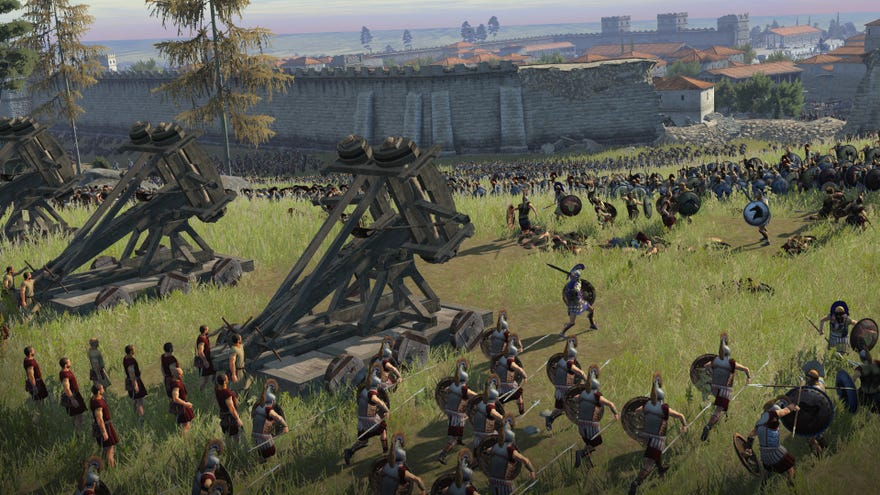 It's a big day for fans of sticking broom-heads on top of helmets, as Total War: Rome 2 is experiencing a burst of wild growth that will undoubtedly lead to public unrest and peasant revolts. Launching today is the Rise Of The Republic expansion, set during the messy conflicts of 399BCE and set across a detailed map of Italy. Alongside that is the Ancestral update, which has been in public beta for some time, and introduces a full family tree system to the game, as well as giving it a bit of a graphical makeover.
The Rise Of The Republic expansion pits nine factions against each other, all with their eye on Rome itself and its surrounding territories. There's a new regional-specific dilemma system, new special Government Actions for each faction, and a story thread of events and dilemmas for each faction to follow. The Ancestral update should increase the amount of backstabbing, too. The new Intrigues system allows characters to carry out personal actions in the vein of Crusader Kings. Adopt members into your family, backstab treacherous cousins, and so on.
Looking at initial user reviews, people seem mostly happy with the expansion itself, and especially pleased with the individual faction's stories in its campaign. Less happy are the Mac owners who have found themselves unable to play the expansion at all. It has been confirmed by Creative Assembly in response to a review that, at least for now, no Mac version of the expansion is coming, as DLC team Creative Assembly Sofia do not support the OS, even though the base game does.
At least the graphical upgrade is impressive. Part of the Ancestral update's suite of changes, its biggest improvement is its water rendering. It looks wetter, wavier and now properly reflects the world around it, as well as properly refracting if you look closely. The lighting has also seen some tweaks, bringing some more natural daylight tones to the historical simulation.
The Rise Of The Republic expansion for Total War: Rome 2 is out now for £11/€17/$17 on Steam and Humble. The Ancestral update is free for everyone, whether they own the expansion or not. You can see the full patch notes here.