Meet the snake-firing archers and other wonders of Totally Accurate Battle Simulator
Snake guns and shield fans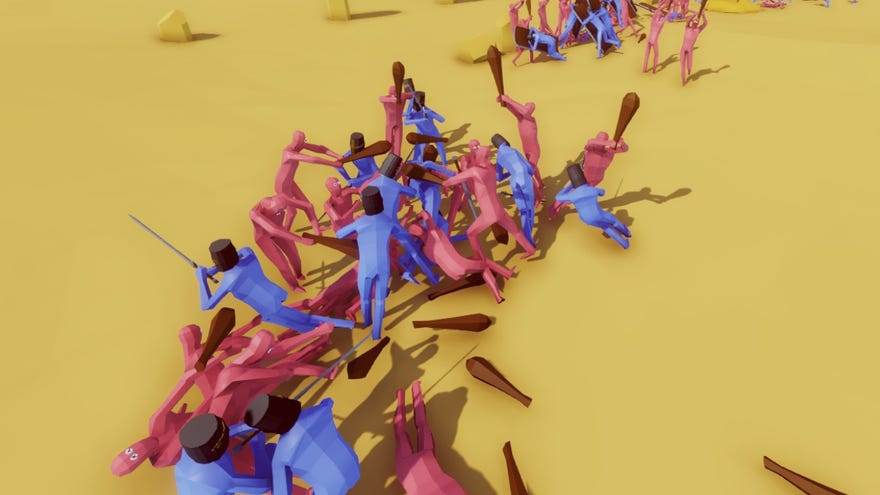 Video games have been simulating battles since 1873, but none of them have the same reverence for historical authenticity as Totally Accurate Battle Simulator. It's an upcoming physicsy fightfest where you pit hordes of samurai, trebuchets and chicken men against mishmashes of rival units - not to be confused with Totally Accurate Battlegrounds, a spinoff battle royale game where you shoot stuff yourself rather than watching from above.
It won't be out for a while, but in the meantime you can (and should) feast your eyes on the dev videos below. William Nylund has been revolutionising warfare with snake guns and shield fans.
These are all from the Twitter feed of Nylund, who's in charge of both the company and coming up with new units.
Tip: Hide your friend in a chest and throw it at your enemies pic.twitter.com/OitOnLUWun

— wilhelm nylund (@wilnyl) 9 October 2018
I made an assassin that teleports to its target the first time it takes damage pic.twitter.com/Tr9LakzL4m

— wilhelm nylund (@wilnyl) 5 October 2018
You can't play with those yet, but you can mess around in these free early alphas from 2016 - though don't expect quite the same degree of wackiness. There are still light sabres, superheroes and units that fart chickens though.
Wanted to see what happened if you made a mini gun fire balloon arrows. hmm pic.twitter.com/058HRilWQ4

— wilhelm nylund (@wilnyl) 28 September 2018
Arming the mini gun with snake arrows is apparently a thing as well pic.twitter.com/PTgXEMnFb6

— wilhelm nylund (@wilnyl) 28 September 2018
There's a sandbox mode if you just want to goof about, making several dozen machine gunners fight legions of boxers. That's glorious, but so too are the puzzle-like levels where you're given a limited budget to take out various armies.
You can overcome the early levels by just swamping the enemy with cheap farmers or peasants, but you soon need to start thinking around what you're up against. It's still delightfully playful, but smart strategies become vital: a battalion of musketeers had me stumped until I charged their ranks with some speedy headbutters.
If you can throw ~20 knives per second you can beat at least 15 people with big axes.

Source: Very accurate and scientific simulation pic.twitter.com/RSof4jEbne

— wilhelm nylund (@wilnyl) 19 September 2018
We are lucky that bouncy balls were not invented during medieval times. pic.twitter.com/t9Arfhj3d4

— wilhelm nylund (@wilnyl) 25 September 2018
If you spawn an explosion every time a bouncy ball bounces you get a lot of explosions pic.twitter.com/0WQRHyYFu7

— wilhelm nylund (@wilnyl) 25 September 2018
It's a two year old toybox that's already brimming with possibility, well before developers Landfall Games have finished chucking stuff into it. They're not just adding more ideas, though. They're adding brilliant ideas.
After my research I can find no reason why people didn't put tons of spikes on their shields back in the day pic.twitter.com/Zn1FNBSQ8Y

— wilhelm nylund (@wilnyl) 7 September 2018
I made a beautiful centaur pic.twitter.com/upP8Lw17a0

— wilhelm nylund (@wilnyl) 4 September 2018
Did anyone say snake archer? pic.twitter.com/gqTyJfXBqE

— wilhelm nylund (@wilnyl) 1 September 2018
I saved the best till last.
Crazy idea, what if we put fans on our shields? pic.twitter.com/UodTq7dL5n

— wilhelm nylund (@wilnyl) 26 September 2018