Tough Times: Layoffs At PopCap, THQ And Funcom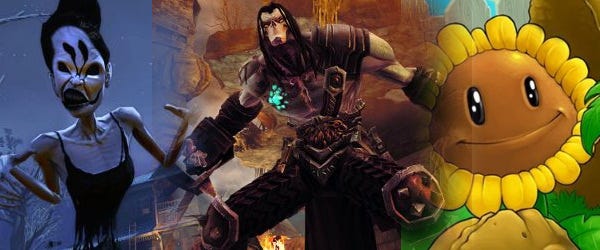 As we know, random events segregate 'non-randomly', and things bunching together isn't a trend. But it's still pretty chilling to see so many lay-offs in the games industry all at once. So we express our sympathies and best wishes to those at Funcom, PopCap, and THQ who've found out their jobs are no longer in the last few hours.
First of all, PopCap has confirmed the rumours that fifty people from their Seattle offices have been let go, along with an unknown number - possibly all - soon to go from the Dublin HQ. Co-founder John Vechey took to their company blog to explain the bad news.
"Today's news is something you expect periodically from a company in a fast-changing industry, but it sucks if you're one of the people losing his or her job. These people are our friends and we don't like doing this. We've made hard decisions before, even had cuts before – at this time in North America there are about 50 people who will no longer work at PopCap. We've hired aggressively this past year and PopCap is still growing. Even with the cuts we expect to end the year with roughly the same number of people we started with."
He goes on to explain that the explosion of the free-to-play model has directly affected a company that has been comfortably charging $20 for its games for years. But he also stresses that this has nothing to do with their owners, EA, adding, "If we didn't have EA behind us, the cuts would have been worse." Quite how a company that has sold more copies of Bejeweled than there are atoms in the universe can be in this position I'm not sure, but then I don't understand business.
Times are bad at Funcom too, with The Secret World having failed to make the money they were banking on. Numbers aren't yet confirmed, but Polygon are saying it could be as many as half of the employees around the world (they have studios in Norway, Montreal and Hong Kong). Polygon received a confirmation from Funcom that lay-offs are happening, mentioning last week's shocking drop in share value, but saying the process is ongoing and undecided. Which is usually business speak for "we haven't told them yet".
And lastly in today's sad round-up, the cash-strapped THQ is to fire 20 non-development staff. An email leaked by 3D Realms' George Broussard reveals that "restructuring" is taken place, with marketing and production jobs affected. He tells staff that he doesn't anticipate this having any impact on games development. He also adds that Saints Row developer Volition is intending to add to its numbers by about 20 this year, and that both marketing and production escaped the job losses other parts of the company saw in January.
The irony for THQ is they're the publisher who have been putting out the most consistently interesting products in recent months. But for whatever reason, they're failing to turn this into success for themselves. Yet they keep making deeply bizarre decisions, like releasing Darksiders II a full week later in Europe than the US. Hopefully the "restructuring" will see some slightly more sensible choices being made by a company that is currently investing in the right development studios.
Clearly we wish our absolute best to those who have lost work, or are about to, and hope they quickly find new positions within the industry. It's brutal to see the traditionally recession-resistant entertainment industry taking a hit.