Trackmania 2 going tropical with Lagoon this month
Sun's out, brums out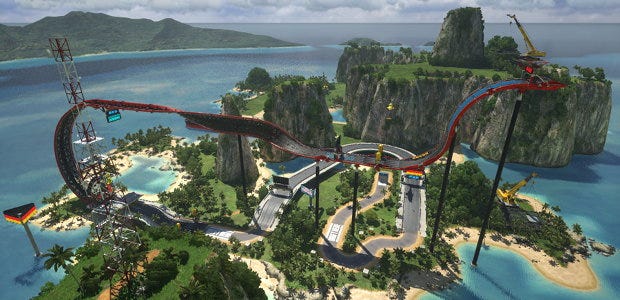 More splendidly silly timetrial racing is coming with Trackmania 2 Lagoon [official site] on May 23rd, Ubisoft have announced. It'll bring tropical courses to race across in a new solo campaign and a new multiplayer team mode. The taxonomy of Trackmania is endlessly confusing but I believe this is Nadeo rolling the lagoon environment of 2016's Trackmania Turbo into the ManiaPlanet world of Trackmania 2 to share its player-made content and community features.
Ahead of Lagoon's launch, Ubisoft have launched a big ManiaPlanet update with performance improvements and new features.
Don't mind that screenshot ↑ up there - it's Trackmania Turbo. Ubisoft, in their infinite wisdom, decided to announce Lagoon without a single screenshot. Lagoon should broadly look like that, with palms and beaches and whatnot. Here's a textual picture from a marketer's mouth:
"Trackmania² Lagoon will take racers to tracks between fabulous palm trees and the crystal-clear bay waters of the Tropical Island of Lagoon, where they will experience arcade gameplay unlike anything in the series to date. The game will include a brand-new solo campaign, a new official team game mode, Chase, a deep multiplayer experience, and a world of possibilities with user-generated content."
Ubisoft can 'flip' right off with their funny little ². Trackmania 2 Lagoon it is. Ubi haven't announced a price yet but other bits of Trackmania 2 cost £8/$10 or £16/$20 so I'd guess one of those. Probably the latter.
As for ManiaPlanet 4, that's out today. Changes include new mesh editing tools, support for creating solo campaigns, new textures and pieces for the Canyon, Valley and Stadium settings, trains, new weapons and modes for Shootmania, channels with scheduled content, and more.
I don't see a full changelog up yet but this trailer demonstrates some of it: