Train Valley DLC Visiting Germany With Bombings, Wall
Historical train management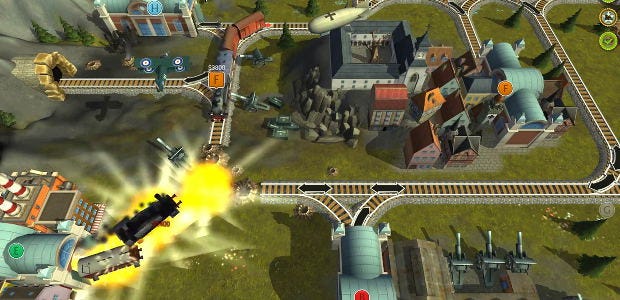 Do you know of Miniatur Wunderland? It's the world's largest model railway, with around a thousand trains, thirteen thousand metres of track, and two hundred thousand people across more than a square kilometre with diddy versions of everything from its home town - Hamburg, Germany - to Las Vegas. There are cars, crowds, farms, festivals, boats, ships, planes, a space shuttle, fire engines which go out and fight fires, and a drowned body in a river being investigated by a forensics team. It sounds pretty amazing, in short, and I'd very much like to visit one day.
So no, I'm not at all surprised that the first DLC for fun rail management game Train Valley [official site] is focused on Germany. They flipping love trains.
This 5-minute video gives a brief tour of Miniatur Wunderland and shows some of its fanciest bits, which seems a fair introduction:
But really I'd recommend this 25-minute video showing so much more detail. The small details are delightful:
Oh, and Train Valley's Germany DLC? Developers Flazm and Oroboro Games say:
"Players will be able to go across 6 beautiful scenarios inspired by German railroad history in 6 new locomotives inspired by legendary machines such as the Adler or the Prussian T9. Manage your budgets to build the best railroad network possible... and try to stay accident-free!"
It'll be out on April 7th for Windows, Mac, and Linux, priced at £1.99/$2.50/€2.50. Looks like it'll be tackling transport antics during troubled times like World War 1 and the East/West division, with events like biplanes bombing and The Wall coming down: