Trains, planes, and tycooning in Transport Fever
Trains and trams and planes oh my!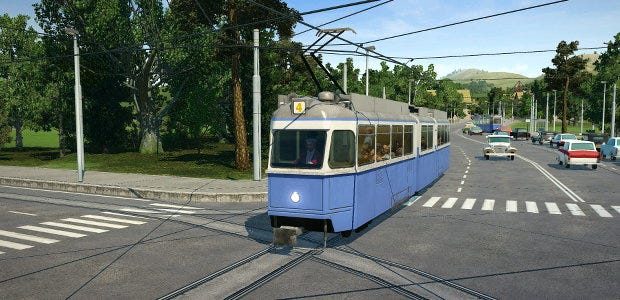 Transport Fever is not what one catches from the London Underground handrail; that's the Hammersmith Honks. Nor is it what you get from seat-back screens on planes; that's Sandler Syphilis. Don't mistake it for Truckstop Fever, an infection from a species of bum lice found only along Route 101. And the medical consequences of riding a bicycle are, we all know, becoming a bicycle yourself. No, Transport Fever [official site] is a Transport Tycoon-sorta-ish sim about building and managing transport networks. It's the sequel to 2014's Train Fever, which Tim Stone quite liked, and out now.
It has the usual Tycooning goal of building and running a profitable transport network, shuttling cargo, people, and all that. It's focused on trains but has aircraft, ships, buses, trams, and trucks too. Honk honk! It starts in 1850 then progresses through the ages, new technologies rolling out along the way.
Transport Fever launched a week ago, which is long enough ago for developers Urban Games to have reflected on the launch. They're happy with how it's sold -- it broke the week's Steam top ten -- but have picked out a few problems with how it's been received by players. They say, "From our analysis we have identified three key challenges: technical issues on launch day, misunderstandings (or lack of explanation) concerning game-play mechanics and performance problems."
So! Another patch is coming to fix crashes, and it will also clarify game systems by cleaning up inconsistencies and confusions. After that, they'll focus on improving performance. Then, "for sure we will continue improving Transport Fever", one way or another. They're also planning to release documentation to support modding.
Transport Fever is £26.99/31,99€/$34.99 on Steam and GOG. Until December 8th, folks who own Train Fever on Steam will get a 15% discount.