Trees, Wool & Sugar: It's A Minecraft Update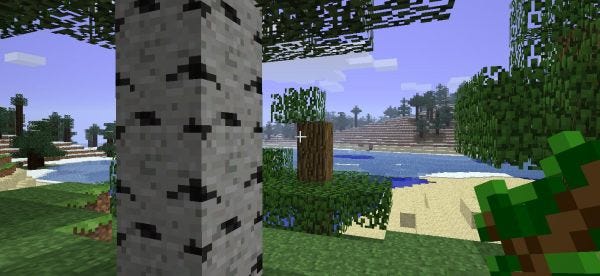 Minecraft has received its 1.2 beta update. I saw a black sheep! The full list of additions is below, but I've spent the evening mining underground caverns and have seen very little. What have you spotted?
New features:
* Note blocks (right click to tune, trigger to play)
* 15 wool dyes
* A new water dwelling mob
* New tree types
* Reeds magically turned into sugar canes. They still make paper.
* A bunch of new crafting recipes
* One secret useful block
* One secret pretty block
* Cake
* AND MOAR, probably. I forget!

Bugfixes:
* Paintings work in multiplayer
* Disconnecting while riding no longer keeps the player in the world
* A bunch more state is properly synched in multiplayer
* Fixed colors going weird on PowerPC
* Fixed a horrible chunk reload loop in singleplayer
* Fixed most lighting bugs in newly generated SMP maps
* Falling sand behaves better in SMP
* Fixed a few crash on load level bugs
It still won't remember my keyboard settings between games though. Grr! So come on then readers, what are the secrets?
Oh, and thanks to Stieg who points me in the direction of this NPC mod, that may well be broken now it's updated.