You're Not Going Out Like That: (Try To) Dress Up
Mundane fantasy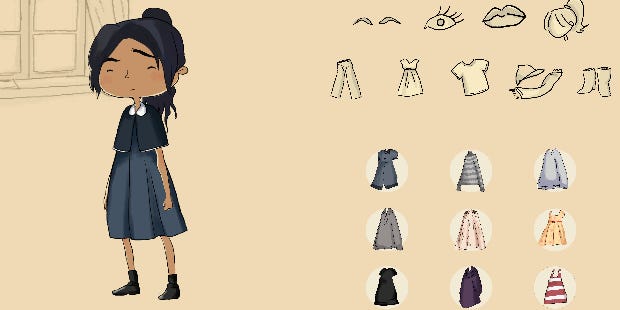 We have, somehow, ended up on the mailing lists of several browser game sites aimed at children and tweenagers. Each day brings new terrifying surgeries and new dress-up games. Those are virtual paper dolls, the fun of character creation without the tedium of then killing ten rats. I play a few, both rubbernecking for Disney characters in gruesome accidents and, well, enjoying dress-up.
Nivetha Kannan has made a game based on her experiences with dress-up games growing up, using them as a fantasy space where her parents couldn't control what she wore. It's called (try to) Dress Up [official site] and it's free to play in your browser. It's nice.
It's a dress-up game with a nice selection of shoes, accessories, hairstyles, and whatnot, but your outfit has to pass your parents' strict standards before you can leave the house. Kannan explains:
"As a daughter of a mostly rural Indian family, my clothing choices were monitored very strictly. My Mom and Dad weren't strict on a lot of stereotypically Asian things (they let me major in art, for example) but due to social expectations of women in our culture (and virtually every culture), my clothes were constantly censored by my parents. Dress up games gave me an outlet where I can dress as sexily as I wanted without reprimand."
I like it. It's a neat, tidy point wrapped up nicely in pleasant dress-up. Good stuff.