Amazon Launch Twitch Prime, Part Of Amazon Prime
No ads, occasional freebies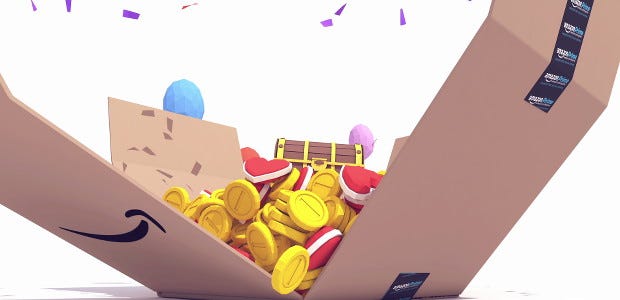 Amazon launched Twitch Prime over the weekend, adding perks for the livestreaming service to Amazon Prime subscriptions. Primepeople don't see Twitch ads, get a free subscription to a Twitch channel, get chat emoticons and stuff, and will receive a small freebie every month for a game, such as a Hearthstone hero. Or, as Twitch say:
"We wanted to make it like a secret level that unlocks the best parts of Twitch and the best parts of Amazon, where members would feel like total bosses."
Come on, swallow that vomit back. That's unbecoming of a total boss like yourself.
Twitch Prime is an expansion of, and eventual replacement for, Twitch's Turbo scheme. Twitch Prime includes Turbo benefits like storing broadcasts for 60 days, exclusive emotes, and removing ads, then throws in extras. Twitch Prime members will get a new freebie every month, like free games or cosmetic guff for free-to-play games. They also get a free month's subscription to one channel every month (which means access to things like subs-only streams) and the channel still gets paid for it, which is nice. Twitch have stopped accepting new Turbo subscriptions from countries where Amazon Prime is available, though Turbofolks can stick with it if they want.
If you're an Amazon Prime subscriber, you can get Twitch Prime by linking your two accounts over here. Amazon Prime, to recap, is a £7.99/$10.99 monthly subscription service covering everything from steaming music and movies to free Amazon delivery. As Twamazon say:
"This doesn't sound exciting until the moment you need to decide between going to the store for toilet paper and playing another round of Overwatch."
Hey, hey now. What did I say about total bosses barfing at Twitch's awful writing and the puerile image it gives of their users?
Amazon bought Twitch in 2014, and their plans for it go beyond rolling Turbo into Prime. They've also been working Twitch into the games made at Amazon Game Studios. They announced three last week, including the MOBA-ish ballsport Breakaway, which we've had a look at.
Twitch announced a few other new things at TwitchCon over the weekend. These include letting people upload videos rather than only streaming, which I suppose is a bit like YouTube but worse in almost every way because Twitch is such a mess. But their new HTML 5-based video player has been a step in the right direction, at least.