Amazon sold pirate copies of Frostpunk and Surviving Mars, among others
Frostpunk'd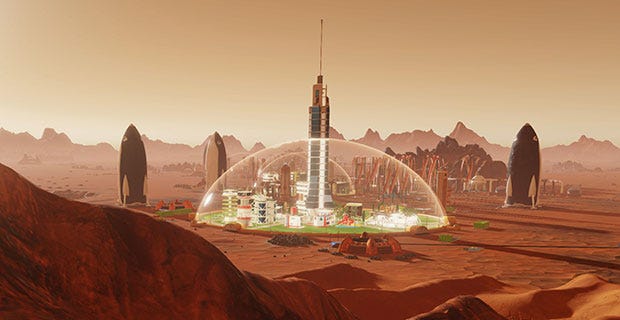 That big shop on the internet, Amazon, has been selling pirated copies of PC games, some do-gooders have discovered (or rather, sellers using Amazon as a storefront have been selling the pirate goods). The dodgy games include icy societal survival game Frostpunk and dusty martian city-builder Surviving Mars, which were being sold for the suspiciously cheapo prices of $3 and $4. If you bought one of these games, you got an illegitimate installer to download, which contained some files ripped from GOG store versions of the games. Oh no.
The bootleg copies were pointed out by folks on ResetEra and Reddit who rightly figured that such a low price for two recently released games was a bit suspect. One of the deal debunkers, CodependentlyWealthy, threw away three of their hard earned dollars to discover the truth.
"I decided to pay $3 to play detective. It's piracy. Someone took the GOG version of the game, repackaged it with their own installer signed and published by "Ace Media Group LLC" and submitted it to Amazon. The installer looks fairly legit but the uninstaller doesn't work. They left GOG-specific metadata files and Galaxy64.dll (for GOG Galaxy client integration) in the install dir."
These particular Amazon listings for Frostpunk and for Surviving Mars have since been marked "currently unavailable", suggesting that somebody at the giant shop knows about the problem. Because of the way the online store works, a sale is not always offered by Amazon themselves, but via a third party, which Amazon simply hosts inside their giant cyber womb of capitalism.
We've asked Amazon how these sellers were allowed to sell game code that wasn't theirs, and what they are doing to stop it in future, but haven't got an answer yet (although, former RPS deal man Lewie Procter chased them a bit and got some unsatisfactory responses). We've also asked the developers of the games in question if they've been in touch with the internet shop about all this.
[Update - The creators of Frostpunk, 11 Bit Studios, have got back to us, confirming that, yep, an illegitimate seller was hawking their game on the shop.
"We've contacted Amazon right after one of our fans informed us," they said in a statement. "Thus we were able to shut it down quickly, preventing a huge number of sales. Currently we are working on a solution, that will satisfy all parties, including the people who bought the game. Anyone who has done [that], should reach us at techsupport@11bitstudios.com and we'll do all we can to fix this."]
These weren't the only games sold bootleggedly. A pirate copy of cyberpunk detective game Observer was also on sale (and is also now marked "currently unavailable"). Nor is this a particularly new problem. ResetEra-ists point out that Lords Of Xulima, a fantasy RPG, was also being sold in a piratical fashion last year, causing the developer to inform Amazon about the illegitimate seller.
"We are trying to remove that seller, but Amazon seems to require lots of documents from us," wrote Numantian Games in a Steam thread in October. "It seems that you can sell a pirated game without any problem, but if the owners complain about it they have to present a lot of very complex documents... what a shame..."
Counterfeit goods are an ongoing problem for Amazon, not just in videogames. Legitimate sellers often find themselves priced out of their market by counterfeiters who sell for much cheaper. Historically, the corporate behemoth doesn't make much of an effort to police these sellers, and has legally argued that it is a "platform" as opposed to a shop. Like the time it sold exploding hoverboards and then said:
"Amazon's role in the transaction was to provide a mechanism to facilitate the interchange between the entity seeking to sell the product and the individual who sought to buy it..."
For a good overview of the shenanigans that occur between sellers on Amazon, here's a good Reply All podcast on the subject. Much of the antics contained in that will be strangely familiar to anyone who has played Eve Online.
Amazon have had other problems recently. A bunch of Amazon workers have been on strike since July 10 and have asked customers not to buy anything until the strike ends tomorrow.