Two Guys From Andromeda Reform To Make Space Quest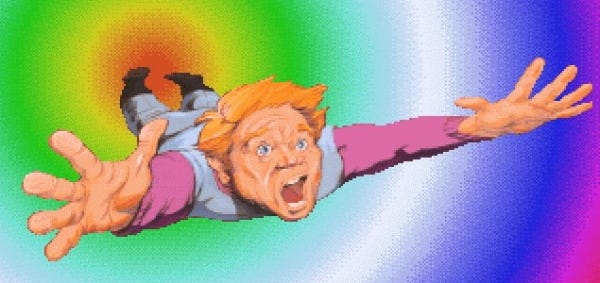 You heard it here first, and now it's definitely happening. Space Quest developers Mark Crowe and Scott Murphy have announced they will be working on a new project, and there's a video to go with it. It's a peculiar one. A very peculiar one, seemingly recorded by Skype and animated from photographs. And most surprisingly, Mark Crowe is involved, having previously ruled himself out. Replay Games had talked about trying to restart the franchise, by combining Scott Murphy with Space Quest VI developer Josh Mandel, already working at the studio. However, there's no immediate implication that this is to do with Replay, rather being announced as a project by the Two Guys From Andromeda. Oh, and most strange of all? So far there's no mention of a KickStarter.
That's interesting in itself, if you've ever delved into the history of those Two Guys, and their split in the '90s. It's great to see any possible old wounds are healed, and they're heading back to the world of Roger Wilco.
As we enter this peculiar phase of nostalgia-driven developments, there are reasonable questions to ask about how much of our gaming past we really want back, and how much better remains a memory. But having replayed Space Quest IV in the last few years, it's definitely a series that I'd like to see return. And especially in a generation where a new SQ game would be less likely to tiresomely kill you every fifteen seconds. Oh, and they've got 76 year old Gary Owens on board to do his incredible narration again!
Quite what this will turn out to be is unclear at this point. And it does seem fairly inevitable that this is the awareness-raising phase before a KickStarter is revealed. They've got to fund it somehow.