Ubisoft buy Brawlhalla makers Blue Mammoth Games
Super Smash that buy button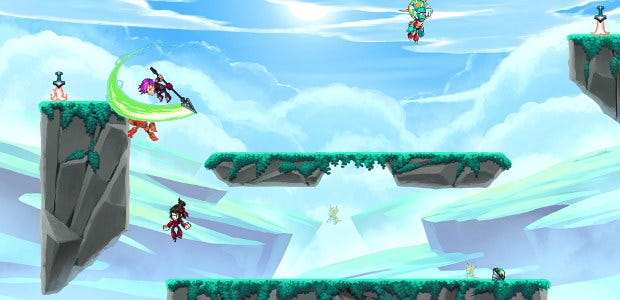 Ubisoft today announced they have bought Blue Mammoth Games, the American studio who make free-to-play platform fighter Brawlhalla. Ubi seem chuffed about now owning Brawlhalla--as they should be, because it's a popular little Super Smash Bros. 'em up with a gentle F2P model--and also gab about happily scooping up the team with all their experience. Blue Mammoth say they will continue to run and expand Brawlhalla under Ubi, and that they had instigated the sale by searching for a company who could help them grow further.
"So, what does this mean for Brawlhalla? Only good things," Blue Mammoth co-founder Matt "Matterhorn" Woomer wrote in a blog post today.
"Blue Mammoth will continue to run the game just as we always have. The studio will grow (slowly, we don't want to mess up the good thing we have here by growing too fast.) We will have more stability and more resources to improve the game and add new features (including some long overdue). We will get opportunities to raise Brawlhalla's profile among gamers. And we'll be able to confidently share a roadmap with you for the next years of Brawlhalla development.

"One thing goes without saying, but I will say it anyway: We've worked very hard over the last three years to earn your trust that Brawlhalla will be always free to play and never pay to win. None of that will ever change. Ubisoft shares that philosophy, and that's another reason we agreed to this partnership."
No one discusses the terms of the sale but it's not our business, is it?
"The team at Blue Mammoth Games is expert at developing and running scalable, competitive, multiplayer online games, and they'll be a great addition to Ubisoft's network of studios," Ubisoft NCSA president Laurent Detoc said in Ubi's announcement. "With Brawlhalla, we're getting a hugely popular and highly-profitable title that aligns with our strategy of expanding our audience and providing players with long-lasting, entertaining gaming experiences."
I do like that, despite being known largely for fancy open-world iconathons, Ubisoft do still have an interest in smaller games. They make some lovely little singleplayer games like Grow Home, though their attempts at multiplayer oddities have gone less well - the giant robot shooter Atomega is essentially dead after only six months.