Undead On Arrival: L4D2's Cold Stream DLC Finally Out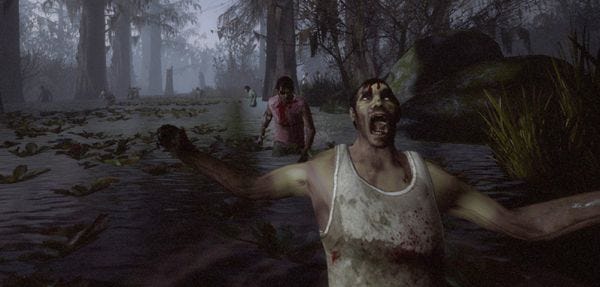 'Twas more than a year ago that Left 4 Dead 2's Cold Stream DLC first stirred beneath the grave of Valve's nearly immortal undead sequel, and then - as though cast in the world's most anticlimatic horror movie - it just kind of sat there. "I'll rise and kick off the end of all human civilization tomorrow," it thought to itself. But tomorrow never came. Until now! After gobs of testing and fine-tuning, Valve's finally deemed Cold Stream fit for public consumption.
So then, since the human mind is fickle and prone to dropping memories like that clumsy comic relief TV show side character everyone hates, let's run through a quick refresher of what's on tap. First up, you're getting the Crash Course, Death Toll, Dead Air, and Blood Harvest campaigns from Left 4 Dead 1 along with an all-new community-created campaign known as, well, Cold Stream. It is, of course, about a cold stream, which - while pretty much apocalyptically unpleasant in its own right - becomes basically the worst thing when paired with zombies. Your objective, then, is to fight through water, woods, and the end of days to reach an evac helicopter.
In addition, all gametype Mutations - once on a Valve-mandated rotation - are now available whenever and wherever you want. And if you somehow still don't own Left 4 Dead 2 - for instance, because you were just born a few minutes ago - it's currently on sale at the nearly non-existent price of (Left) $4.99 (Dead). So then, friends, Romans, countrymen, and infants, you know what to do.