Undercooked? RAW - Realms Of Ancient War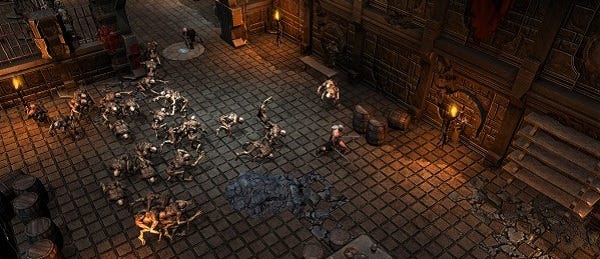 Due for release next year, the aggressively titled R.A.W. - Realms of Ancient War looks a little Diabloesque in the four new screenshots below. However, a trailer almost as ancient as the very realms in which it takes place reveals it to have more in common with Baldur's Gate: Dark Alliance. There are three exciting classes to choose from - warrior, sorcerer and rogue. I bet one of them is stealthy and has a penchant for ranged weaponry. There's also a storyline about the ruined kingdoms of dwarves, elves and man, but guess what? A new and unknown threat is now rising! Let's take a look and then guess what this fresh evil might be.
It might turn out to be utterly brilliant but Wizarbox's background in handheld pap and conversions doesn't thrill. They did make an original PC adventure game called So Blonde but I haven't played it, despite the promise of "more than 50 references to find (TV,cinema, reality shows, video games) and a lot of humor guaranty".
Still, it's being released on XBLA and PSN as well so probably won't cost the earth and I'm not averse to a spot of co-op hacking and slashing. Click the screens to make large versions loom across your screen.