Unexpurgated Notes On Firewatch
Unfinished sympathies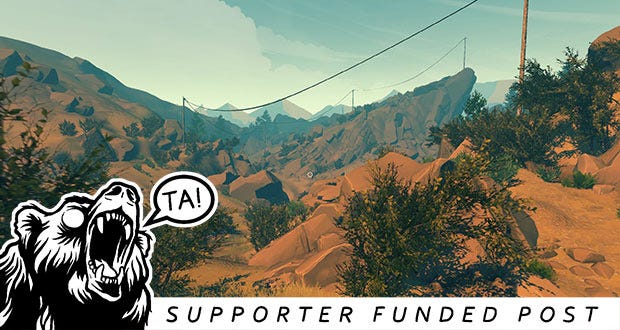 I hadn't planned to write anything particular about Firewatch as I'm busy getting everyone killed in XCOM 2 at the moment, but I've spent a couple of evenings with it (note: my evenings start at 8pm and end at 10pm, because I am an indentured servant to a toddler, so please don't interpret that as some commentary on the game's length) and ancient habits mean I take notes just in case. Here are those notes. N.b. in addition to contextless rambling, this piece contains several theories which may or may not be spoilers: I haven't finished yet, so I don't actually know.
Read the rest of this article with an RPS Premium subscription
To view this article you'll need to have a Premium subscription. Sign up today for access to more supporter-only articles, an ad-free reading experience, free gifts, and game discounts. Your support helps us create more great writing about PC games.
See more information