SAG-AFTRA union approves new voice actor deal
Strike targets included EA and Activision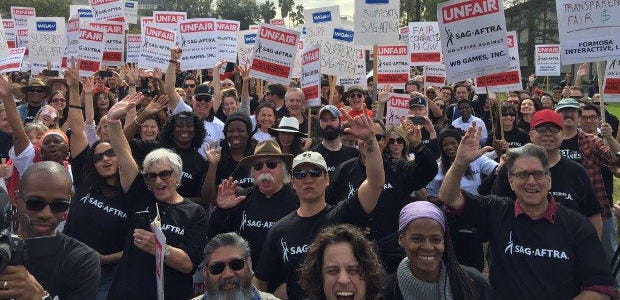 Members of the USA's Screen Actors Guild‐American Federation of Television and Radio Artists union (SAG-AFTRA) have voted to approve a new standard arrangement for voice actors working in video games, ending an upset that included 11 months of strikes. The strike began in October 2016 as voice actors raised issues including long recording sessions for vocally-stressful parts, bonus pay for successful games, and not even knowing what a job was or would entail when they took it. The strike didn't cover all games, only targetting 11 specific companies, but it was notably visible for causing Life Is Strange's Chloe to change voices between the original game and its prequel.
The strike ended in September after reaching a tentative agreement. Now the final agreement has been approved by 90% of those who voted so it's in effect and will expire on November 7th, 2020.
Union performers were striking against big publishers including Electronic Arts, Activision, and Take-Two, as well as several voice production companies used by others. SAG-AFTRA had been putting together a new agreement to update one that was twenty years old, trying to reflect big changes in games since then. Heck, voices were still relatively new to games back then.
The union had four main issues. With the games industry now making more money, they wanted bonus payments from successful games. They wanted shorter hours on recording sessions that could strain voices, ones recording all the grunts, squeals, growls, and weird voices games can demand. They wanted stunt coordinators to be on hand for motion capture to reduce risks. And they wanted companies to actually tell actors what a game would be, and what they would be expected to say and do. Check this page for more details on those and other proposals.
How much of that have they managed? Well, the new agreement includes bonus payments and a somewhat vague commitment from companies "to continue working with SAG-AFTRA on the issue of vocal stress during the term of the agreement." And the point that still blows my mind, how little performers were told about a game, is resolved.
SAG-AFTRA explain that companies will be required to disclose "the code name of project, its genre, whether the game is based on previously published intellectual property and whether the performer is reprising a prior role," as well as whether actors will need to "use unusual terminology, profanity or racial slurs," if there'll be "content of a sexual or violent nature", and whether they'll be expected to do stunts. Many companies are super-secretive about what they're working on, sure, but not telling actors if they'll be expected to physically perform, say racial slurs, or get sexual is so weird.
The final agreement also shoots down several proposals from game companies, including fines for performers being late or distracted, and letting employers use their own permanent staff to do work outside the agreement.
Let's do this again in 2020. See you then.