Life Is Strange: Before the Storm's Chloe has a new voice actor, because of the strike
Before the storm but during the strike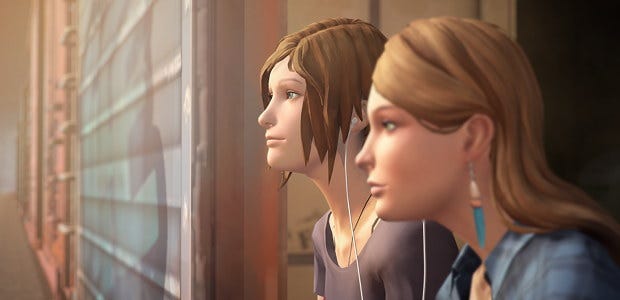 Gameplay snippets from Life Is Strange: Before The Storm [official site], a miniseries prequel focused on the wonderful teen melodrama's gal pal co-star Chloe, have oozed out of E3 and- hey wait, that's not Chloe! Turns out, she has been replaced. While Chloe's original voice actor, Ashly Burch, is consulting on the prequel, she isn't actually playing Chloe this time. This wasn't a creative decision, but rather down to the ongoing voice actor union strike. You can hear Chloe's new voice in this gameplay video:
Before The Storm is a three-episode prequel starring Chloe, set after the death of her father and around the beginning of her doomed friendship with Rachel Amber.
Burch did pop up in the announcement video developer diary talking about her role as a writing consultant but I hadn't twigged that she wasn't voicing Chloe this time. "My main focus has been on Chloe and Chloe's voice, in terms of just her dialogue and her psychology," Burch said, "and so I've given notes on different aspects of the script, about things I think Chloe would or wouldn't do, things she would or wouldn't say." But she won't actually be saying those things herself.
"Hey y'all, to the fans asking - I wasn't able to reprise my role as Chloe in Life is Strange: Before The Storm due to the SAG-AFTRA strike," Burch tweeted yesterday.
"Chloe means a lot to me," she continued. "Grateful for the opportunity to consult on her character."
Burch's Chloe is Chloe to me, so this is weird. In such a character-focused series, the change is a shame.
The strike by SAG-AFTRA (Screen Actors Guild and American Foundation of Television and Radio Artists) started in October 2016, seeking changes including better pay and more breaks to avoid the dangers of vocal stress. The strike is focused on games started since February 2015 by 11 companies, including bigguns like Electronic Arts, Activision, and Take-Two. And, evidently, Before The Storm was hit too. The strike is ongoing against the big eleven, though SAG-AFTRA say they've signed a number of other companies and games up for their new arrangement.
A new Chloe isn't the only change. Before The Storm is being made by a different studio, Deck Nine Games. Series creators Dontnod Entertainment are working on their own new Life Is Strange too, so we have two games coming.
Life Is Strange: Before The Storm will start on August 31st. The three-episode season will cost £13.99/16,99€/$16.99, or £20.22 for the Deluxe Edition which includes extra outfits and a bonus episode starring a young Max. Publishers Square Enix swear blind that Before The Storm is a complete story without that extra episode, that it is an optional bonus. An update to the Deluxe Edition will be sold separately too.