The Face Of Tomorrow's Indie Games: Unity 5 Announced
Physically-based shading oh my (?)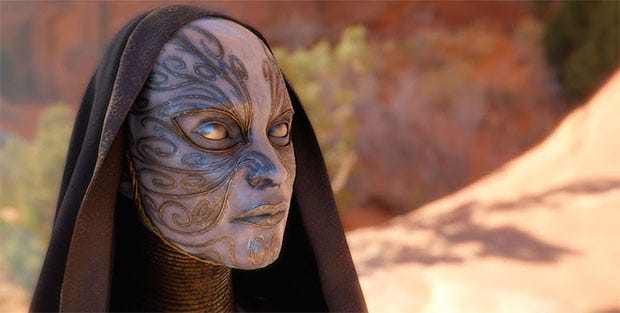 In theory I'm working with someone to make a game in Unity, but I've yet to progress past the "very long Word documents with overwritten design ideas" stage myself. However, at some point I fully intend to fiddle under the hood to some degree, and as such today's news of a big old update to Unity is going to affect me at some point. For now though, I'm not the best person to ask about quite why the newly-announced Unity 5 is quite so exciting, but judging from how the throngs of developers took a break from hard drinking and massed backslapping at GDC to light up Twitter with breathless wonder at the listed features for this increasingly ubiquitous game engine, it appears to be one hell of a big deal in devland.
From a games-player point of view, this is very likely to shape a lot of the indie games (big and small) that we'll be playing over the next couple of years. As far as I can tell, two of the most promising additions are heightened visual spangliness and - potentially - running games in browser without the need for a plugin.
Real-time lighting system and physically-based shaders seem to be the headline feature, as they'll mean a pretty big graphical boost to Unity games - in theory that much much closer to yer fancier-panted big budget games. We'll have to see in practice, naturally. People also seem excited about a new audio pipeline and the ability to export to WebGL - which would mean no plugin is required to play in most modern browsers. That is most delightful in principle, I must say.
Here's a video to look at too:
Beyond that I am useless to you, so please forgive me simply cutting and pasting the list of features below. Unity 5 is available for pre-order now.
Physically-based Shading
Unity 5 will launch with a new built-in physically-based shader system. It is designed to cover a wide variety of real-world materials under all lighting situations and includes a vastly improved workflow, from the art pipeline all the way to the UI. Unity 5 also introduces full deferred shading and baked reflection probes for realistic environment-based specular highlights.

Real-time Global Illumination with Enlighten
Unity has entered into a partnership with Geomerics to integrate Enlighten, their industry-leading real-time global illumination technology, into Unity 5. Enlighten is the only real-time global illumination technology optimized to deliver fully dynamic lighting in game on today's PCs, consoles, and mobile platforms. Animate lights, emissive material properties and control the environment lighting in real-time. Enlighten's technology also brings dramatic workflow improvements, enabling artists and designers to work directly in Unity 5's editor to create realistic and engaging visuals for all game styles. The technology is the lighting solution of choice for some of today's most advanced and best-selling titles.

Real-time Lightmap Previews
In partnership with Imagination Technologies, Unity 5 will be the first-ever development platform to ship with in-editor real-time lightmap previews based on Imagination's ground-breaking PowerVR Ray Tracing technology. This exciting addition allows for near instantaneous feedback from changes to global illumination lightmaps by displaying an accurate preview in the editor's scene view of how lighting will look in the final game. With this technology, artists can continue to iterate and refine the look of a level while final lightmaps update and bake in the background, dramatically decreasing the amount of time needed to make artistic adjustments to scenes.

Audio Overhaul
Unity's entire audio pipeline has been rewritten to be more efficient and flexible. The first big feature included with the overhaul is an Audio Mixer designed to allow highly complex real-time re-routing and effects scenarios. Designers can take snapshots of mixer settings for dynamic transitions between sound profiles during gameplay.

WebGL Add-on Early Access
Unity's multiplatform functionality remains one of its most valuable aspects and Unity Technologies is happy to announce its collaboration with Mozilla to bring WebGL and asm.js support to Unity. Starting with Unity 5.0, developers will be able to get early access to Unity's WebGL add-on to begin creating interactive experiences for plugin-free play made possible in supported modern browsers. Attendees at GDC can stop by the Unity booth to see a demo of Madfinger Games' Dead Trigger 2 running on WebGL.

Unity Cloud
Unity 5 will also see the launch of the Unity Cloud cross-promotion network, enabling mobile game developers to run full screen interstitial ads in their mobile games, as well as exchange ad units with other Unity developers, to unlock the combined power of over half a billion mobile game installs for free.

Furthermore, Unity 5 introduces many other additions and improvements:
Unity is now 64-bit
New multithreaded job scheduler
NVIDIA PhysX 3.3
Easier and incremental building of Asset Bundles
New 2D physics effectors
SpeedTree Integration
NavMesh improvements
Mecanim StateMachine Behaviours
Loading optimizations
And many other improvements
Out soon, and if you're at GDC pop by Unity's stand to find out more.