Vampire 'em up Dead of Night looks specdracula
Vladventure time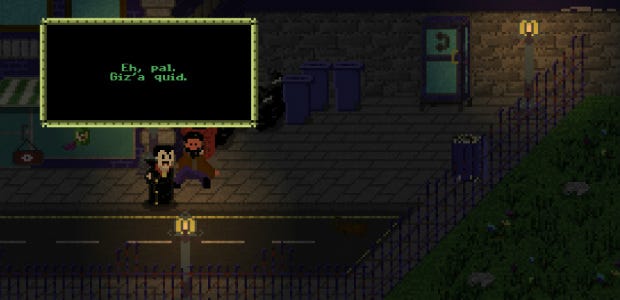 Dead of Night [Itch page] looks pretty spooctacular. Or specdracula? Or maybe boo-tiful, even. Horrible puns aside, it's a vampire adventure game in which you, Vlad, have to retrieve your belongings and return them to your castle. I've played quite a lot of Thimbleweed Park and Dead of Night's trailer really reminds me of that game, with an 8-bit art style, a strange town full of NPCs and puzzles to solve by combining items in your inventory.
The music is great, too, an insistent electronic score that makes me feel slightly uneasy. And no wonder, because you're always in danger: the police are after you and you burn to a crisp in sunlight. To defend yourself you can hide or simply eat people. Naturally.
The game comes out on Friday, July 14th. Here's a trailer:
It's inspired by '80s and '90s classics like Spike in Transylvania, Bride of Frankenstein and Werewolves of London, according to one-man band developer Aaron Cochrane.
Here's Cochrane with more:
"People will run at the very sight of you, and the police will quickly run and try to beat you to death. Pressing the Transform key will change you to Human form and will stop you from being detected!

"Dead of Night also uses a day/night cycle (of sorts!). As Vlad is a vampire, he can only stay out at night, and as such must either retreat to his castle or find some other way to evade the sun."
Ahead of the full release, which will cost $3.99, you can download a free beta version from itch.io. Insert warning about bugs and glitches here. The full release will be on Steam too.
What do you reckon?