Skave Survival: Vermintide's Last Stand Mode Released
How long can you live?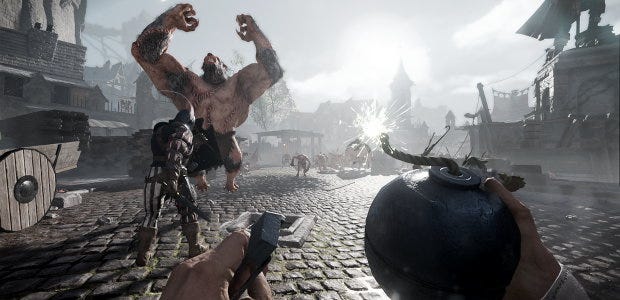 Here's the thing: I recognise that Måns Zelmerlöw's Heroes was probably the best Eurovision song in last year's contest, but it wasn't the best song. Are you, reader dear, listening to Heroes regularly? Exactly. Yet I'm still giving Rhythm Inside by Belgium's Loïc Nottet plenty of play and- oh fine, I'll skip to the point.
Fantasy FPS Warhammer: End Times - Vermintide [official site] today launched its wave survival mode 'Last Stand' in a free update, and Swedish devs Fatshark have celebrated that with a trailer set to Heroes. Hey, you, it's not May 2015 anymore.
Last Stand mode is the usual wave survival dealio: you (and your chums) try to stay alive for as long as you can while increasingly tough hordes of monsters keep flooding in. Points mean prizes, I'm sure you know, as well as funsies. That's it. It's a wave survival mode.
The mode arrives for free, but with only one map. 'The Town' is "set in the Von Jungfreudsplatz in central Ubersreik," Fatshark say. I don't know what those words mean, which is very Eurovision. If you want more places to die, you can buy the Schluesselschloss map (gesundheit!) for £1.99/$2.99/€2.99 on Steam. Folks who own the DLC can invite their pals to play on the map even if they don't own. I thought one map seemed stingy when Fatshark announced it, but I suppose I was comparing them to Left 4 Dead and Valve - a company with far deeper pockets.
Anyway, here's the trailer with a song which shouldn't be heard now.
"I listened to the song while driving, and I kept picturing the Vermintide heroes in front of me," Rikard Blomberg, CFO of Fatshark, said in a press release. "It was simply the perfect song for a trailer."
BELGIUM WUZ ROBBED!
For readers outside Europe wondering what Eurovision even is, watching Ireland's 1996 entry My Lovely Horse should help you understand: