Mysterious Girl: Virginia Gets Cinematic Trailer
Search warranted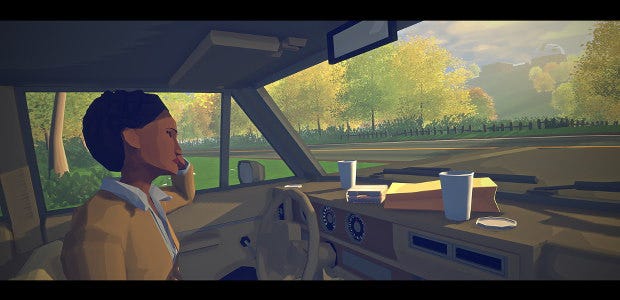 Right, I'm going to level with you: I'm really behind on Virginia [official site] news because I want to go into it as fresh as is feasible while retaining my job on this PC gaming website. Single-player mystery thrillers involving FBI agents are very much my area of interest and I do prefer mysteries where I know very little about them going in.
With that in mind, I'm watching this cinematic trailer for Virginia, but I'm doing the kind of watching where I'm deliberately not paying attention, I'm just trying to ensure it's definitely a trailer and there's definitely a game and no-one's accidentally left a bunch of porn halfway through or something:
Okay, so having watched it while focusing on a point about an inch below the video itself so as not to take in any fine detail, I can tell you there seems to be some driving, a darkroom, a bit where you play cards, and there are a number of NPC characters. Also there might be a lift. There were definitely sliding doors, at any rate.
Virginia will wind up on Windows and Mac on September 22, and already has a demo on Steam. In the name of including something useful in this post rather than telling you I tried not to watch the trailer this entire post is supposed to be about, here are some other things that apparently happened on 22 September in years past:
In the UK in 1955 ITV went live for the first time. It's a television channel and currently brings our nation such entertainment as Coronation Street (a soap opera), The X Factor (loads of countries have a version of this) and Jeremy Kyle (a budget version of Jerry Springer - maybe a bit more like Maury Povich but I've not seen Maury in years).
It's also Anne of Cleves' birthday, Hobbit Day, American Business Women's Day and World Car-Free Day.