VRexit: HTC Vive UK Price Raised By £70
Hardly cheap befpre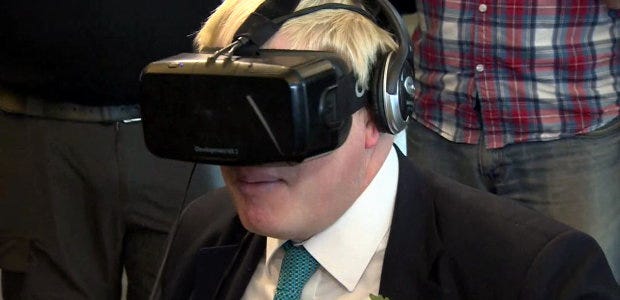 "Pinch and a punch for the first of the month", we used to say in the EU meatculture days. Now we all drift in the post-Brexit cybercloud, we get a pinch, a punch, and a price hike on cybergoggles for the first of the month. I can't keep pace with modern life.
The price of HTC Vive cybergoggles today goes up up by £70, "due to recent currency valuation changes". You know, how our currency's done a falling-over since the referendum over leaving the EU. Good times. Proper japes.
Vives were previously priced at £689 for folks in the UK, which came out as £746.60 including postage and packaging. Now it'll cost you £759 plus p&p, coming out to £815.69. Strewth! But hey, at least the p&p cost has gone down 91p.
Why the higher price? HTC explained in a statement:
"HTC continuously monitors and adjusts pricing to ensure we are providing our customers with the best value possible. Due to recent currency valuation changes and the current value of the GBP we are adjusting the price of the HTC Vive in the UK to £759 + P&P. The adjustment will come into effect on Monday 1st August.

"We are committed to providing the best possible VR experience with Vive and would like to thank our UK customers and partners for their continued support."
This is to provide us with "the best value possible," see! Lucky us.
And to think, Chief Brexiteer Boris Johnson did seem to so enjoy playing a VR dog simulator last year. Total legend. Proper lad. Epic bants.