Like Angry Houses? War Thunder: Ground Forces Beta Keys
Tanks f'r readin' errybody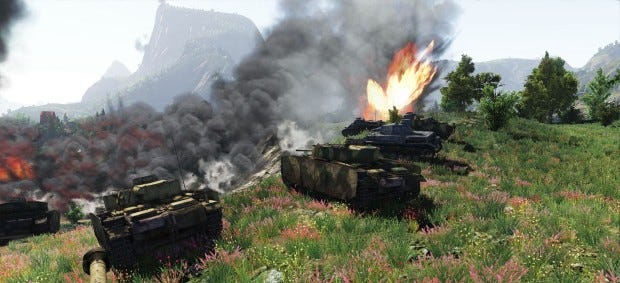 War Thunder: Ground Forces is rolling towards an open beta, but for now the competitive multiplayer game remains open only to those who have a key. We have keys. Would you like a key? There are 3000 keys.
War Thunder is like World of Tanks but with planes; small arenas, short matches, free-to-play, and a persistent tech tree to advance through with your hard-won XP. While the makers of World of Tanks created a whole new game to incorporate planes, War Thunder: Ground Forces puts the tanks into the same maps as the planes, so the two can interact (by shooting at each other). Read our preview of the game for more detail, or find a trailer and the first-come, first-served keys down below.
Tempted? Here are the keys, distributed through godankey.com. They won't use your email address for anything other than sending you the key.
Did you get a key? Here are the instructions for how to use it. Pay special attention to the current schedule of uptime, as the beta servers aren't yet live 24/7.
INSTRUCTIONS / INFORMATION

We are happy to announce the launch of tank events on the main server of War Thunder for CBT participants. Tank events are available every day via the current schedule, but very soon they will work 24/7.

Instructions for activation:

Login or register at http://warthunder.com/

On the main page, click the "Redeem code" button in the right menu

To enter CBT:

1. Login to the game:
2. Press "Events" button in the right upper corner of the screen
3. Find Tanks events on the list of events
4. Tank events will appear on the list of events only when they are active via the schedule below

Current schedule of tank events on Production server (GMT):
From 00:01 to 04:00 and from 16:00 to 20:00 every day.
Happy tanking.