War Thunder leaves open beta, officially released
Ruling ground and sky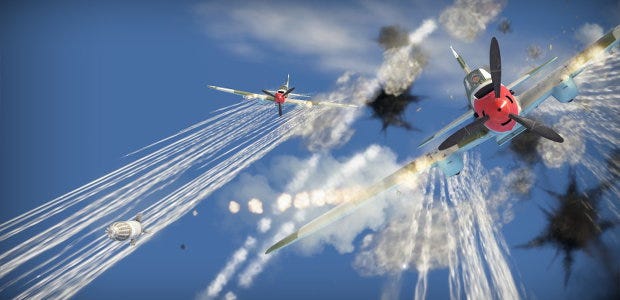 Back when simulated man Tim Stone declared War Thunder [official site] one of the best sims, it wasn't even out of beta. Now, after four years in open beta, Gaijin Entertainment have declared their free-to-play aeroplane-a-tank battler is... well, not done, but officially 'released' and out of beta. War Thunder is still missing several long-planned features, like proper shipfights, but they are coming.
The update tipping War Thunder over from beta into officially launched is v1.65, nicknamed 'Way of the Samurai'. Its main feature is Japanese ground vehicles, completing the game's lineup of pootlers. The game now also has 3D cockpits for all aircraft, while back on the ground vehicles with hydropneumatic suspension can hunker down and boogy from side to side. The update added two new maps too.
You might be wondering what happened to proper naval warfare, the third front War Thunder was due to battle across. Well, Gaijin's plan was to complete ground vehicles, get cockpits sorted, and have balance in decent shape, to launch in that state, then focus on ships.
Gaijin CEO Anton Yudintsev reflected in a Reddit post
"Initial plan was to finish all it in 2.5 years, but we hadn't able to do that - partially because the game was under operation, partially because we got user feedback that changed priorities and added new features.

"Even this update added like 50 vehicles (which is about the amount of initial OBT!), and totally we now have like 500 planes and 300 ground vehicles.

"Still, such timeline is not something unusual (as well as 2 years delays) in game development, even for much smaller games.

"We are small studio. When we launched OBT, we had money for just one month salary for our employees, so we couldn't wait any longer.

"Luckily launch was successful enough to finish our plans, thanks for our players' support."
So now they'll focus on Naval Forces, which are soon to enter closed beta, and World War Mode. That's due to chain large battles into 'Operations', with events and outcomes of each affecting the wider Operation.
You can nab War Thunder from its own site and through Steam.