Warcraft III: Reforged revamping Blizzard's classic RTS
Ha ha no way Warcraft 3 came out 16 years ago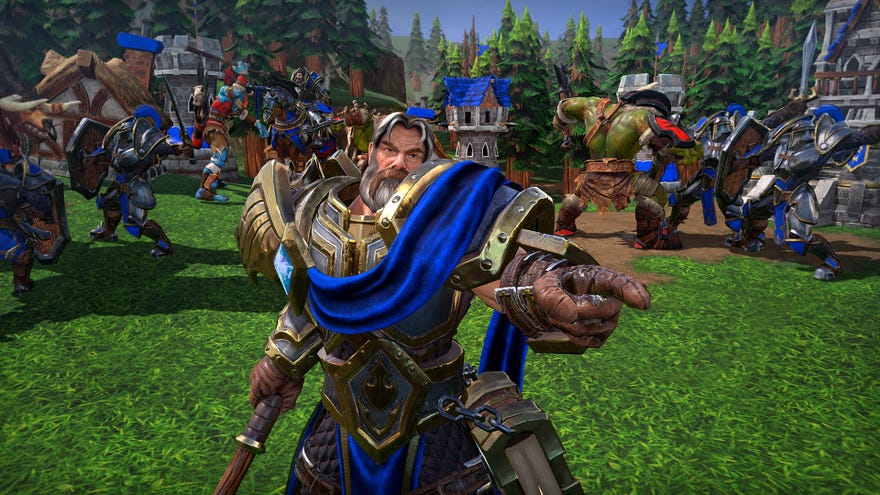 Having remastered StarCraft last year, Blizzard are now updating another of their classic real-time strategy games: Warcraft III. During BlizzCon today they announced Warcraft III: Reforged, a revamped release of WC3 with redone artwork, UI improvements, and other such modern fancying-up. Wait. Hang on. Warcraft III first came out on 2002? That can't be right. That would mean... oh god, this is a lot to take in. While I wrestle with my own mortality, here, you watch the announcement trailer showing off the new look.
Reforged will include both Warcraft III: Reign Of Chaos and its 2003 expansion pack, The Frozen Throne. They're coming fancied up with fully-redone character art, tweaked levels, touched-up cutscenes, a UI overhaul, a fresh lot of balance tweaks, and support for modern Battle.net features. And yes, it will still have support for 'Custom Game' mods.
Outside of DotA, I can't have played WC3 in... I can't even remember. My memories of it are so old that seeing the old character models in that video shocked me. Apparently I remember the game looking as good as its pre-rendered cinematics and ha ha nope. I remember really liking WC3? Our Alec still says it is the 38th best strategy game, so my memories can't be all wrong.
Blizzard did update ye olde WC3 earlier this year with proper widescreen support and other features, so the original is still up and running if you'd rather stick with that.
Warcraft III: Reforged is due in 2019. It'll cost £25 on Battle.net. See WC3's site for more on Reforged, including more pictures.