Warhammer Vermintide Free Weekend & New DLC
3 news maps, plus torches and traps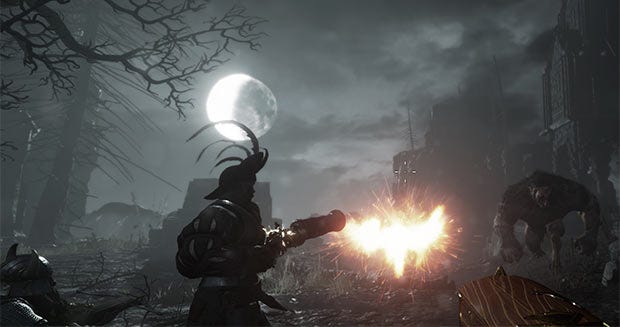 Poor old Warhammer: End Times - Vermintide [official site], it's a perfectly decent Left 4 Dead-but-with-ratmen, but for me it's now doomed to forever be "the one that looks a bit like Bloodborne but isn't anything quite as transcendent." I am obsessed with Bloodborne now, I'm afraid. I pray it somehow comes to PC so that I can endlessly jabber into your terrified face as to why that's the case. But while Bloodborne is like an unofficial Warhammer adaptation, Vermintide is the real deal, and its solid first-person Skaven-bothering is now reinforced by a free weekend and some castley DLC set in the mountains outside of its main town.

The co-op shooter/slasher/magicker is free to play via Steam for the next two days, and has a 40%-off sale (down to £13.79) if you're sufficiently taken with being murdered by rodents in the dark to want to keep it forever. The new Drachenfels DLC is £6 and features three new maps set in the titular out-of-town castle. Looks like a decent change of deeply sinister scenery from the usual streets and spires to me:
Torches and traps are also brought into the mix, as are a Glaive for the Waywatcher and a Volley Crossbow for the Witch Hunter. The good news is that, if you play Vermintide with chums, only one of your squad needs to own the DLC in order for you all to play it together. Until of course you fall out with him because you let him get slaughtered during a mission and ran away like the craven you are, in which case you're going to have to find your own damn six quid.