Way To The Woods is a teenage dev's passion project
Oh, deer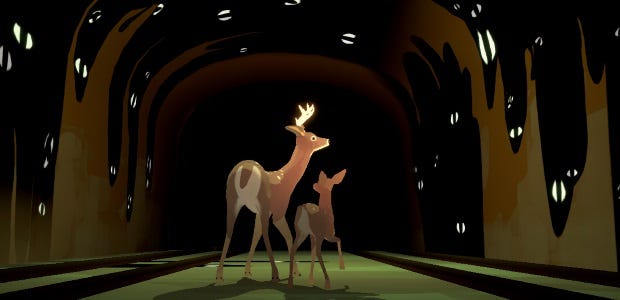 Just look at that. That is a still screenshot from Way To The Woods, an upcoming 3D adventure about a deer and its fawn on a grand pilgrimage through a world seemingly abandoned by humanity, but dense with their artifacts. It looks gorgeous and evocative. If you keep on reading, you'll see a gameplay trailer which looks even better in motion. It's all very impressive.
The icing on top of this visually tasty treat? It's all the work of a small team headed up by Australian developer Anthony Tan, who is 18 now, and has been working on the game for several years. I suddenly feel so very, very old.
It's a spectacular reminder that game development has very little barrier to entry these days, outside of having time to invest, access to a computer and internet access. The power and flexibility of the likes of Unreal 4 (which Way To The Woods is based on), Unity and later-generation editions of Game Maker and RPG Maker means that if you've got skill, artistic talent, dedication, or know some people who you can tap for those traits, just about anything is possible.
While primarily an exploration-focused puzzle-adventure. there will be some action sequences in Way To The Woods. Humans may be absent, but there are still predators lurking in the corners of this seemingly ruined world, and the lead duo just happen to be the freshest, tastiest looking things around. Nature is cruel, no matter how cute you are; a good lesson to take to heart in general, really.
Way To The Woods is due out in early 2019, and you can keep track of its development via its official site, which is mostly a Tumblr blog feed.