18 Minutes Of Interrupted No Man's Sky Footage
What do you do in it?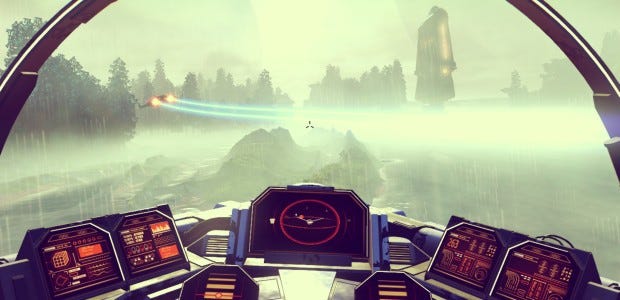 I like walking simulators - games about travel, exploration and sightseeing - but I don't think that's what I want from No Man's Sky [official site]. I want to visit the landscapes of its procedural worlds, for sure, but the incomprehensible vastness of an entire universe suddenly makes overt game mechanics feel like a comforting rock to cling to. The 18 minutes of video below, from the folks at IGN, has some pretty clear detail as to what both the literal and metaphorical rocks of No Man's Sky will look like.
More details of what you actually do in NMS have been trickling out since E3 - including six minutes footage that can be watched without commentary - but there's more detail as to the mining, shooting, trading and so on in this video than I think have been released previously.
I like that there's a security force that protects the sanctity of wildlife and wild landscapes should you decide to harvest or destroy them. I like the planet later on with the worm-like columns of rock swooping across the landscape. I'm not sure I like the look of the guns at all, which seem to act like hosepipes with lasers inside.
No Man's Sky has no release date yet, but Hello Games said at E3 that it would release simultaneously on PC and PS4. We should have more on the game later today.
CUT TO: Me sat in a dark room, looking at a screen you can't see, writing this post.