What's Cracking? Plingy Plongy Pair 'Em Up Egg Boss
Cute critters in weird eggs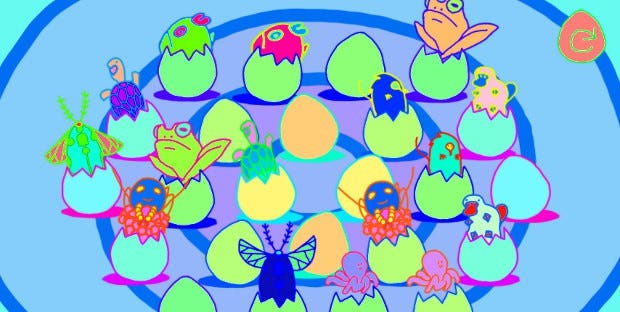 I have a few questions for you. Do you like bright colours? Do you like chill electronic music and noises? Do you like cute weird animals and the eggs they hatch from? Do you desire to fill several minutes of your existence with something pleasant? If you've answered yes to at least two of those questions, you might well enjoy Egg Boss. It's a free browser-based take on ye olde pair-finding games, where you're trying to match eggs based on the sound they make when you tap them. Some squawk, some chime, some warble, some burst static, some bubble, and it's all very nice.
I am increasingly fond of games which can show me something pleasant or exciting or scary or distressing or weird or playful in a few minutes. Exploring a virtual world the size of Basildon is grand and all, but I like complimenting it with bursts of small things which I play, I enjoy, I finish, and I move on from, perhaps thinking about them a little later and remembering hey, those were some cool-looking critters inside those eggs.
Egg Boss was made by Paloma Dawkins and KO-OP Mode's G.P. Lackey for the GAMERella game jam, with noises by YlangYlang.