Blammo: Gearbox's MOBA-y FPS Battleborn Due February
Bang bang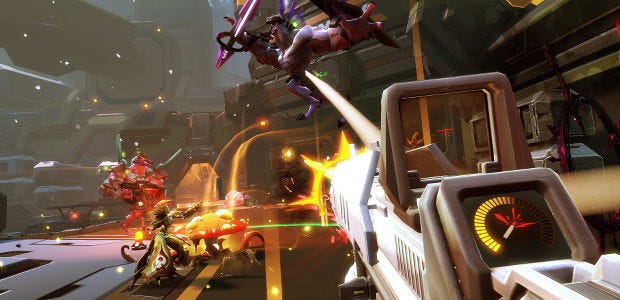 Most MOBA incursions into other genres have focused on the genre's competitive underpinnings, but Gearbox seem to be pushing co-op pretty hard with Battleborn [official site] - not surprising, given they're the folks behind Borderlands. It's all good and well me saying this, but what does it mean to you? You'll get to play it from February 9th, 2016, publishers 2K have announced at Gamescom.
Cologne being The Land of Reveals, 2K have also unveiled another four characters from its 25-champ lineup and dropped a new trailer:
I'm still concerned that most of the enemies seem to be generic things that walk towards you and explode in a few hits. Yes, MOBA-MOBAs have lane creeps, but they're pawns in a battle of wits and subtlety between competing players - they wouldn't be interesting to fight without that. When two folks square off in a pub car park, throwing their jackets to the wet gravel and yelling "Come on then!" while shoving each other playfully, MOBA creeps are the people who'll try to separate them saying "Leave it out, they're not worth it" until it becomes clear that it is GO TIME and everyone dives out the way - they serve a dramatic function but aren't much fun to punch.
Or maybe it'll be a load of fun to fire guns loads and blow up loads of nasties. Battleborn does have bigger monsters who look like they'll add urgency, leading to the fun of quickly assessing target priorities and worrying about having creep-free space to fight and whatnot.
It does have competitive play and solo play too, I should mention.
An open beta test is planned before Battleborn's February 9th launch, though 2K won't have more to say about that until "later this year".